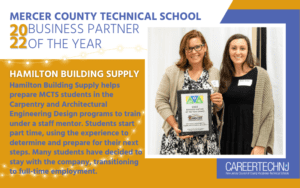 The longtime support Hamilton Building Supply Company has given to Mercer County Technical Schools (MCTS) has earned the company a recent honor: Business Partner of the Year. The district annually recognizes the invaluable contributions of an employer with this title.
A 100-year-old legacy business within Mercer County, Hamilton Building Supply is the 2022 Business Partner of the Year for helping to prepare MCTS students for various career pathways.
The company welcomes MCTS students in the Carpentry and Architectural Engineering Design programs to train under a staff mentor. Students start part time, using the experience to determine and prepare for their next steps. Many students have decided to stay with Hamilton Building Supply, transitioning to full-time employment.
As recently as 10 years ago, MCTS students would have been trained in custom millwork using wood, but today the material is poly-ash, a synthetic material that is better suited to exterior products such as molding and siding. Their exposure to this material is important for preparing for a career today in the industry.
"Hamilton Supply showcases a healthy work-based learning site by providing a safe, well-structured, real-world learning environment," said Michael Orfe, director of vocational education for MCTS. "Our students learn a lot and take those skills into future employment."
The team at Hamilton Building Supply is equally happy with the school-to-work relationship.
"Our staff loves teaching and supporting the students from MCTS," said Denise Guttierrez, who provides administrative support for the company. "The students are motivated and eager to learn. At the end of their time with us, they are able and skilled employees."