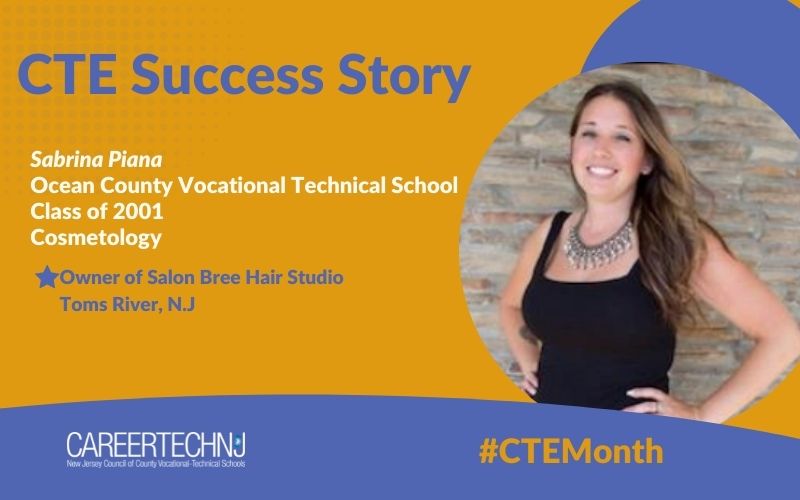 A passion that began in childhood and thrived in adolescence still drives Sabrina Piana of Toms River. For three years, she has operated Salon Bree Hair Studio in her hometown. It's a dream come true for a woman who once took great delight in sitting as patiently as a little girl can while her mother styled her hair and polished her nails.
Staying still for those special treatments and later practicing them on friends was child's play until Piana made what she calls "the best decision ever" to enroll at Ocean County Vocational Technical School. The cosmetology program presented her with traditional academics and work-worthy skills.
"How great is it that I get to go to school half a day, and then the other half I finish with what I love to do, doing hair at the vocational school?" she thought then. Now, 22 years later, "I'm still in the beauty industry and run my own shop."
Piana admits that she initially thought her dream of running a salon was an impossible one. She also admits that getting there was not easy.
"Owning your own business takes a lot of time and long hours, but anything is possible if you put your all into it," she said. "You have to love what you do."
She also appreciates having a great team of employees, and having teachers like OCVTS's cosmetology instructor Pat Wake. "She believed in me and she prepared me for the real world of work."
High school may be far in Piana's rearview mirror, but education definitely is not.
"You always need to be up to date on everything and willing to learn," she said. "If you learn something new every day, you can teach something new every day."
Throughout Career and Technical Education Month in February, the New Jersey Council of County Vocational-Technical Schools showcases how CTE works by sharing success stories from alumni of the 21 county vocational-technical schools.