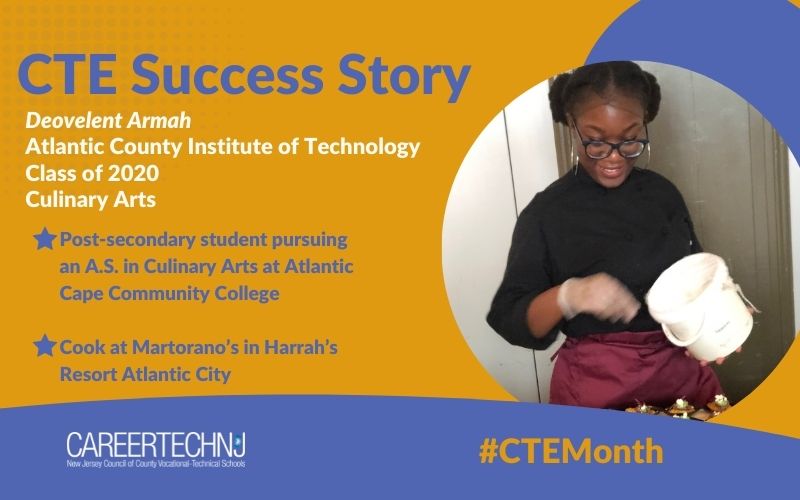 Deovelent Armah is making the most of the head start she received in high school as an Atlantic County Institute of Technology culinary arts student. A 2020 graduate, the Pleasantville native is now pursuing an A. S. in culinary arts at Atlantic Cape Community College while also working as a cook at Martorano's in Harrah's Resort Atlantic City.
She says ACIT gave her the tools necessary to break into the Atlantic City restaurant scene and advance along a career path that both fulfills her passions and presents opportunities for growth.
"ACIT provided me with fundamental knowledge of cooking techniques and skills that I am still using today, both in school and at work," Armah said. "I was offered opportunities to be creative and showcase my talents that are serving me now as I complete my degree and advance into positions in culinary management."
Armah emphasized the hands-on experience she received also prepared her for the transition from school to work. "The school offered me experience in anticipation of the work ethic I needed to establish myself as a successful leader in the culinary field. All that I learned proved beneficial for the fast-paced, multi-tasking environment present in the food service industry."
Armah hopes to one day share her industry experience as a career and technical education instructor. She plans to earn a bachelor's degree and then acquire the necessary certifications to one day teach culinary arts to high school students, providing them with an experience similar to the one she was afforded at ACIT.
Throughout Career and Technical Education Month in February, the New Jersey Council of County Vocational-Technical Schools showcases how CTE works by sharing success stories from alumni of the 21 county vocational-technical schools.