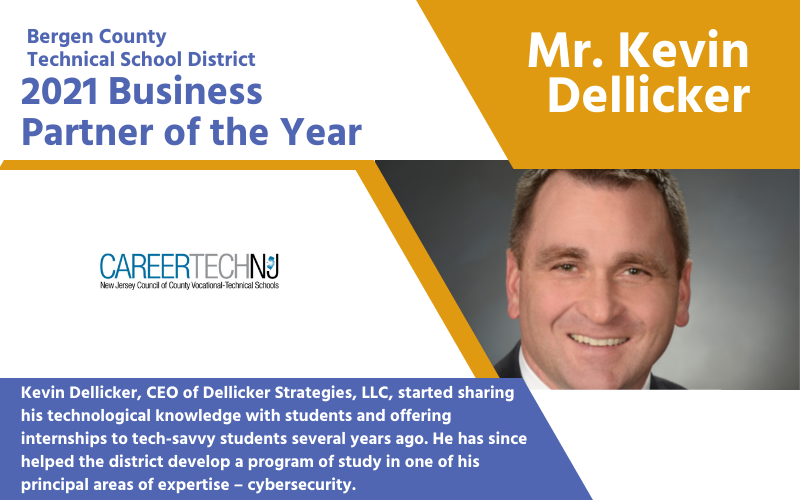 Bergen County Technical School District has selected Kevin Dellicker, CEO of Dellicker Strategies, LLC, as its 2021 Business Partner of the Year. Dellicker first became involved with the district as a consultant on several technological initiatives. A few years ago, he began sharing his knowledge with students interested in careers in technology and offered internships to ambitious, tech-savvy students. He has since helped the district develop a program of study in one of his principal areas of expertise – cybersecurity – and now welcomes interns from this new BCTS program.
BCTS' concentrated cybersecurity program is offered at the district's Applied Technology High School on the campus of Bergen Community College. Students start in the ninth grade and have the option of graduating in four years with an associate degree, 30 credits of which are covered by the high school. Dellicker continues to serve as a program advisor, invested in the success of both the cybersecurity course of study and the students.
Dellicker was midway through working with a small group of interns from BCTS when the pandemic hit. He had already recognized the value of introducing bright, young students to the cybersecurity field. Now, technology firms like his and organizations big and small feel an even greater sense of urgency to nurture a future workforce tasked with getting cybersecurity under control in our country, with more and more people working – and learning – from home. "If we can't, we can't use the Internet," Dellicker warned.