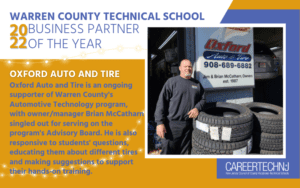 Warren County Technical School (WCTS) has named Oxford Auto and Tire, Washington, N.J., as its 2022 Business Partner of the Year.
Co-owner Brian McCatharn has been singled out for his support.
"Brian and the Oxford Auto and Tire staff work hard to provide support for our Automotive Technology program," said Superintendent Derrick Forsythe. "In addition to advising and directing our students, Brian maintains an active presence on the Advisory Board. We greatly appreciate all that he does for Warren Tech!"
It is not unusual for WCTS students to call McCatharn to ask about tires for cars they are working on. He educates them about the different kinds of tires and makes suggestions about which choices would be best.
"I primarily support the program by serving on the Advisory Board," said McCatharn. "I offer advice about what the students should be learning in school and what kinds of equipment the school should use. I have also given them tires for the students to use on their school projects."
Currently Oxford Auto and Tire employs four former Warren Tech students.
"I am very grateful and appreciative of the recognition we have earned, and I look forward to continuing this relationship with Warren County Technical School in the future," McCatharn added.