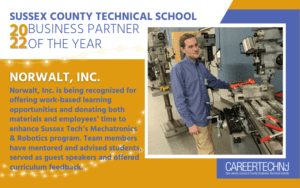 Well known as a custom machine assembly firm in Randolph, N.J., Norwalt has worked with Sussex County students in the Mechatronics & Robotics program for about two years. Students learn about various aspects of the work including machinery assembly, electronics, automation and engineering.
"Programs like those at Sussex County Technical School are important for the future of all kinds of American manufacturing companies," said Plant Manager Matt Seitel. "We offer skills training, of course, but we also introduce young people to careers they might not have otherwise considered. We encourage students, even from other programs within the technical school, to come to our plant and actually try the different kinds of work associated with manufacturing."
In addition to on-site tours and work-based opportunities, Norwalt, is being recognized for donating both materials and employees' time to enhance Sussex Tech's Mechatronics & Robotics program. Members of the Norwalt team have advised students, served as guest speakers and offered curriculum feedback. Their investment in the program has become an investment in their workforce, as Norwalt has extended job offers to some program graduates.
As an Advisory Board member for the Mechatronics & Robotics program, Seitel is working with the instructors to plan something new. In the coming year, students will complete a long-term project – designing, building and testing their own automation machinery.