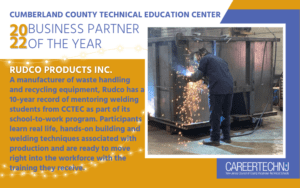 Rudco Products Inc. out of Vineland, NJ, was a clear choice for Cumberland County Technical Education Center's (CCTEC) Business Partner of the Year.
A manufacturer of waste handling and recycling equipment, Rudco has a 10-year record of mentoring welding students from CCTEC as part of its school-to-work program.
Historically, CCTEC juniors and seniors have worked five half days at Rudco throughout the school year, then full time in the summer. They learn real life, hands-on building and welding techniques associated with production. CCTEC grads may move right into the workforce with the training they receive.
"The students are taught proper methods in a real production environment," said Operations Chief Engineer Vince Berni. "They start on little things, but they advance in skills over time. We like working with the students, and they make a nice addition to the team."
Berni says the relationship between Rudco and CCTEC sparks regular conversations about methods and materials.
"I have offered different gauge metal sheeting for the students to work on in class," he said. "Rudco is happy to provide materials to improve the students' experiences."
Every year, Rudco employs a number of CCTEC's graduates, providing them with the opportunity to continue on their career pathway while enhancing their trade skills in the fabrication industry. Rudco also has welcomed students who go on to college to work part time around their school schedules.
"CCTEC is very fortunate to have industry partners who are willing to work collaboratively to develop the next generation of tradesmen and tradeswomen," said Principal Greg McGraw. "Our relationship with Rudco Products Inc. is a perfect example of the positive outcomes that can be achieved for students and local businesses when there is great collaboration between the school and industry."