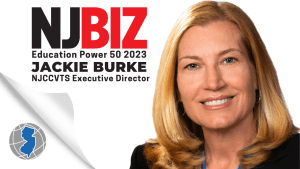 As the state, national and global economy becomes more complex, more competitive and more reliant on increasingly sophisticated processes, systems and technology, New Jersey residents and businesses risk falling behind. The key to maintaining an edge in this interconnected world is a workforce that continually adds knowledge and expertise.
The importance of expanding educational opportunities and preparing for new challenges is evident when a commercial real estate firm starts its own "university" to prepare new associates for what they will face in the market. Jessica Perry describes JLL's efforts here. The new hires have skills, JLLU provides the specialized knowledge they'll need to succeed.
State officials also recognize the importance of post-secondary education, as Matthew Fazelpoor reports. Higher Education Secretary Brian Bridges tells him about efforts to re-connect New Jerseyans who interrupted their education with colleges and universities where they can finish what they started. Bridges notes that the state's goal is for 65% of adults to get a degree by 2025. The Some College, No Degree initiative is the centerpiece of the work toward attaining that goal.
And colleges and universities themselves are making concerted efforts to reverse the enrollment declines that started during the pandemic, as Kimberly Redmond explains here. Since COVID-19 faded, new obstacles have arisen that dissuade young people from continuing their education beyond high school.
Fixing that problem, and generally keeping New Jersey's workforce on the cutting edge of achievement, will be the job of the individuals profiled below. All have demonstrated their commitment to the critical task of ensuring that New Jerseyans are prepared for the future.
So, take a look at the profiles and let us know what you think of the leaders honored here. As always, the top 10 are ranked in numerical order; the rest are listed alphabetically.
View this article and all Education Power 50 profiles as they originally appeared in NJBIZ on Sept. 18, 2023.
Jackie Burke, executive director of the New Jersey Council of County Vocational-Technical Schools, is profiled in the list and featured below:
Jackie Burke
Since 2021, Burke has served as executive director of the New Jersey Council of County Vocational-Technical Schools, a nonprofit association that represents vocational-technical schools across the state's 21 counties. Widely recognized as a leading voice for career and technical education before policymakers, the business community, labor unions and other education leaders, the organization supports collaboration among its member vo-tech districts, which offer programming in high-demand fields for 35,000-plus high school students as well as adults. During her tenure, Burke has continued executing NJCCVTS's mission to not only promote career-focused education, but also expand opportunities for those who wish to pursue career and technical education studies. As part of that effort, several construction projects are underway that support new and enhanced programming to meet critical workforce demands in areas like advanced manufacturing, allied health, cybersecurity, global logistics & supply chain management, sustainable construction and green technology. Made possible by $250 million in state Career and Technical Education grants funded through 2018's Securing Our Children's Future Bond Act, the upgrades at 17 vo-tech schools include new construction and renovation work. Prior to taking the helm in the wake of long-time executive director Judy Savage's retirement, Burke served since 2016 as assistant executive director for the organization.