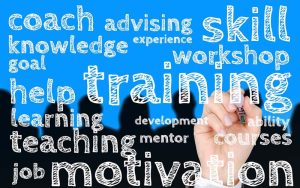 Read this article, featuring NJCCVTS Executive Director Jackie Burke, as it originally appeared in NJBIZ Sept. 20, 2021.
Someday, in what everyone hopes will be the not-too-distant future, NJBIZ will publish a power list that does not reflect the exigencies of a deadly global pandemic. That day has not arrived and the selections for this year's Education Power 50, especially the top 10, were influenced by the ongoing public health emergency.
Readers will notice a preponderance of honorees from one institution: Rutgers University. In fact, the state's flagship public institution of higher learning deserves all the accolades sent its way. The public health and medical schools played crucial roles in the early days of the pandemic, when testing and contact tracing were the only tools available to control outbreaks. Now, with safe, effective vaccines widely available and the delta variant posing a new set of challenges, the experts at Rutgers are being counted upon to provide clear-eyed guidance to officials and New Jersey residents who have grown weary of pandemic mitigation precautions.
As a public university, Rutgers should play a prominent role in the state's economic, social and cultural life. And it does, though not always a positive one. As NJBIZ staff were putting the finishing touches on this Power 50 list, the university was responding to reports that its athletic department – a source of statewide pride last year with the success of several programs – had run up hundreds of millions of dollars in debt. The revelations come at a time when budgets everywhere are tight and the optics of a profligate sports program were not good.
The experts, teachers and administrators in the public health and medical schools generally don't draw large audiences to stadiums and arenas, they were still the public face of the academic response to the pandemic. Yes, New Jerseyans should be concerned about budget issues at Rutgers. But they can be proud that the institution stepped up to an unprecedented challenge and provided invaluable assistance to a state in crisis.
So, take a look at the list and let us know what you think – about Rutgers or any other institution or individual profiled on these pages. As always, the top 10 are ranked numerically; the rest are listed alphabetically.
Among those listed are NJCCVTS Executive Director Jackie Burke:
Jackie Burke
As executive director of the New Jersey Council of County Vocational-Technical Schools, Burke provides advocacy and support for career and technical education in New Jersey. She successfully pushed for the Securing Our Children's Future Bond Act, approved by voters in 2018 to expand the state's 21 county vocational-technical schools with innovative new programs (and more students) to meet critical workforce demands. She and the Council work closely with the educational leaders and the business community to prioritize career-focused learning for over 35,000 high school and adult students and align career programs with employer needs. Career, technical, and skill-based classes are desirable, according to the annual PDK Poll on public schooling: in fact, the demand for such classes outpaced preference for more advanced academic classes by more than three to one.