During Career and Technical Education Month in February, the New Jersey Council on County Vocational Technical Schools is highlighting successful graduates of the county's 21 vocational technical schools.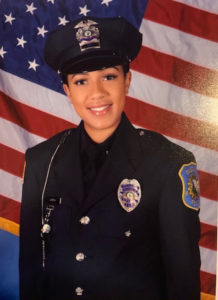 Juleidy Aquino graduated from the criminal justice program at Passaic County Technical Institute in 2012. She earned her bachelor's degree in social work and psychology from Rutgers University and works as a patrol officer with the City of Passaic Police Department.
Aquino said the education I received at Passaic County Technical Institute prepared her well for her chosen career.
"The Criminal Justice program at PCTI provided the tools and instruction I needed in order to build character, strength, and confidence," Aquino said. "I also learned about different career opportunities starting at a local to a federal level.""
Aquino said the opportunity to participate in many teams and contests helped build her knowledge and understanding on different topics and he lessons and guidance she receivedhelped shape her into the officer she is today.
"The Criminal Justice program was the best choice I could have made," she said. "The instructors had lesson plans that kept me entertained and informed. I learned about crime scene investigations, forensics, court proceedings, different police tactics, trials, abuse, fire scenes and so much more. I also learned the old school fingerprinting technique with ink and paper, which I believe is better than the digital. The abundance of knowledge that I was able to obtain is indescribable."
Along with the tools and instruction provided, Aquino said she also learned about different career opportunities.
"When many people hear the words 'criminal justice,' they will assume police officer or jail," she said. "What many fail to realize is there are many career opportunities in this field."
Among those career professions include lawyer, U.S Marshall, correction officer, firefighter, judge, FBI, and others.
"While in college, I was able to intern as a drug court coordinator and was employed briefly as a finance officer at the Passaic County Superior Courthouse," she said. "I chose to become a police officer because I wanted to make a difference in my community and to display that women will get the job done."
Aquino said not only did she learn about career opportunities, but she was able to participate on the crime scene investigation team, mock trial team and contests.
"I learne how to secure a crime scene, what evidence to look for, and how to preserve evidence in case of a trial," she said. "I also learned how to critically think and speak in front of an audience during mock trials.
Aquino said she won first place in the Association of Black Women Lawyers contest showcasing capital punishment.
"I thank all of my instructors for their time, patience, information and love they provided through every lesson they taught on a daily basis," she said. "I hold PCTI to a high regard as one of the greatest schools I have ever attended and I thank my instructors for molding this tiny, shy girl into a crime fighting police officer."