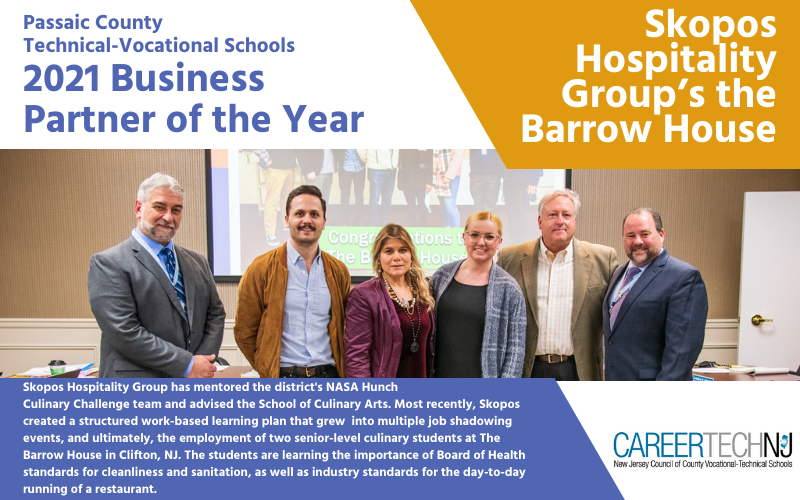 Skopos Hospitality Group's the Barrow House is Passaic County Technical-Vocational Schools' 2021 Business Partner of the Year. Initially, owner Thomas Maroulakos and other representatives from Skopos Hospitality Group joined the School of Culinary Arts' Advisory Committee. They provided mentors to the district's Culinary HUNCH Team, and as they learned more about culinary arts at PCTI, they became more and more invested in helping to further strengthen the program.
Skopos worked with PCTI to develop a structured work-based learning plan for culinary students. Multiple students are engaging in job shadowing and participating in a School to Careers program in partnership with the hospitality group's Barrow House in Clifton, N.J. Two senior-level students are consistently working hands-on with chefs, gaining a range of new experiences, including butchering fresh meats, poultry and fish, then roasting, braising, and sautéing to perfection. The students also are understanding the importance of Board of Health standards for cleanliness and sanitary measures, as well as industry standards for running a restaurant day to day.
Future plans include a junior-level job shadowing program at the Barrow House and the addition of Passaic County Community College to the partnership to offer 12 college-level credits for a combination of the students' work at the Barrow House and classwork at PCTI.