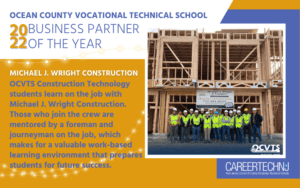 Michael J. Wright Construction & Capoano Framing Contractors Inc. is the 2022 Business Partner of the Year, named by Ocean County Vocational Technical School (OCVTS).
Students in the OCVTS Construction Technology program spend one day each week in class, learning the theory behind all facets of the construction process, as well as the vernacular. Then, they spend four days experiencing hands-on learning at businesses like Michael J. Wright Construction.
Students who join the crew are mentored by a foreman and journeyman on the job, which makes for a valuable work-based learning environment that students are excited to talk about in class. Having the opportunity to apply what they have learned in the classroom is essential to their career preparation and future success.
OCVTS and Michael J. Wright Construction have been collaborating since 2017, and over the past two years, this has resulted in the company hiring three of five work-based learning students.
"Four years ago, we knew it was time to strategically partner with local youth in some way," said Daniel Redgrave, general manager at Michael J. Wright Construction. " As with most successful businesses, at some point an aging workforce becomes a real challenge. We had to figure out how to transition 35 years of knowledge from one generation to the next using a mentor program. However, that needed local youth who were willing, enthusiastic, and well-educated in basic construction and a learning institution that wanted to place students in long-term, rewarding careers. A partnership with MJW and OCVTS was born."
"Michael J. Wright Construction is a huge supporter of the Ocean County Vocational Technical School, and we are delighted to recognize the company as the district's Business Partner of the Year," said Karen Homiek, OCVTS superintendent. "Many of our students have been placed on cooperative education internships through their company and have been hired full time. The students, staff, and administration of OCVTS thank everyone at Wright Construction for their continued support and congratulate them on receiving this award.
Redgrave emphasized that the construction company already saw its relationship with the vocational-technical school as rewarding. He continued, "It is with great pride that Michael, myself, and our entire staff extend our sincere gratitude to OCVTS for its commitment to developing tomorrow's successful workforce; we look forward to working hard to keep this partnership successful for decades to come."