By Kelly Harmon
Director of Curriculum, Monmouth County Vocational School District
For the first time, more than 25 cosmetology instructors from 12 New Jersey vocational districts attended a curriculum roundtable in January.
At the session at Monmouth County's Culinary Education Center on Jan. 30, 2020, instructors shared their grading procedures, rubrics, curriculum resources, and much more.
The session was an outgrowth of an idea that was launched over the summer at the annual meeting of the New Jersey Council of County Vocational-Technical Schools.
It was at that meeting that I sparked up a conversation with Gary MacDonald, the director of curriculum at Ocean County Vocational School District.
Just a few weeks later, we met to discuss how we could join forces to support the Career and Technical Education teacher certification process and bring our CTE teachers together to collaborate on common curriculum items and share resources.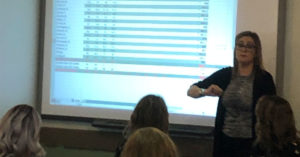 We met again on September 17, 2019 at Ocean County's Brick Center and invited other CTE administrators from across the state. We were pleasantly surprised by the turnout — representatives from Essex, Hunterdon, Morris, Cape May and Somerset attended.
It was during this time that we shared successful advisory board tips, discussed our barriers to recruiting/retaining CTE teachers, and reviewed program approval procedures. At the conclusion of the session, we agreed that our CTE teachers needed a forum to share best practices, and as a result, we organized the cosmetology curriculum roundtable session.
After receiving such positive feedback from the attendees and realizing vocational educators need a network, the New Jersey County Vocational Schools Curriculum Roundtable was born.
The goal is to offer quarterly roundtable sessions for administrators and two curriculum roundtable sessions a year for CTE instructors while allowing each vocational district to host at least one meeting.
The next curriculum roundtable session will be hosted by Burlington County Institute of Technology in May 2020 for all allied health instructors. More info coming soon!
To be added to our mailing list, please email Kelly Harmon at kharmon@ctemc.org.