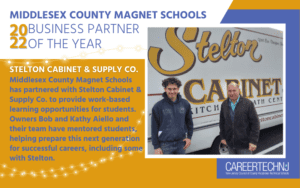 Stelton Cabinet & Supply Co. out of Piscataway initially connected with Middlesex County Magnet Schools to begin building an employee pipeline. Today, many of the same entry-level carpenters the company hired straight out of the high school are now the mentors, training current students engaged in work-based learning with the company. To celebrate this decades-long relationship, Middlesex County Magnet Schools recently named Stelton Cabinet & Supply Co. its 2022 Business Partner of the Year.
The district says the mentorship provided by Stelton is invaluable. Led by owners Bob and Kathy Aiello, the Stelton team has led students in the Computer Assisted Drafting program on tours behind the scenes of the Stelton operation and made curriculum recommendations. The company has even donated materials for students to use as part of their classroom training.
Through work-based learning opportunities, Stelton further helps students build a foundation for a successful future. Two students who started in this program recently opened their own woodworking/carpentry businesses.
"Middlesex County Magnet Schools prides itself on placing students into quality work experiences that train them for their future careers, and Stelton Cabinet has been an industry partner in training and hiring our students for decades," said Adam Recktenwald, Middlesex County Magnet Schools supervisor of CTE. "Our thanks go to Stelton for welcoming and mentoring the professionals of tomorrow."
"We feel that there is a lack of interest in the trades," said Stelton's Kathy Aiello. "It hurts business not to have a ready workforce. That is why we are willing to employ a student with common sense skills, aptitude, and understanding of concepts related to building. Having students from Middlesex County Magnet Schools has been a very positive experience."