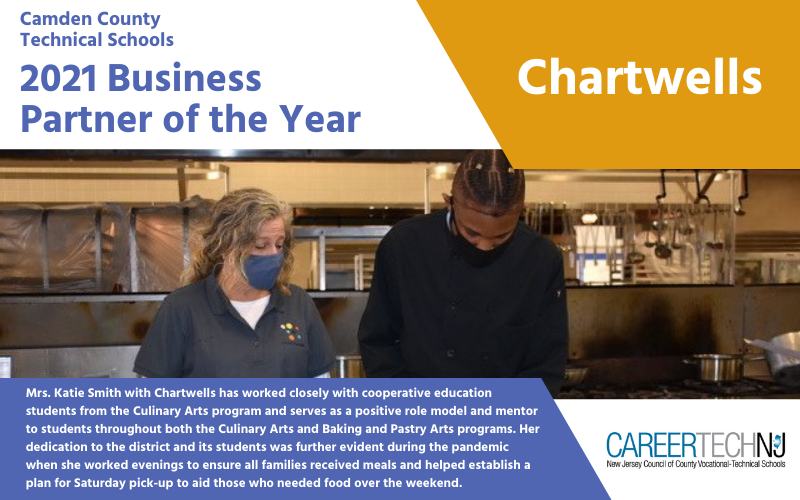 The Camden County Technical School district selected Katie Smith, dining service director for Chartwells Food Service, as its 2021 Business Partner of the Year. Smith was honored with a plaque during the Dec. 15 CCTS Board of Education meeting.
Chartwells provides breakfast and lunch for CCTS students on both the Gloucester Township and Pennsauken campuses. During the pandemic and remote learning last school year and the spring of 2020, Chartwells prepared breakfast and lunch to go, not only for CCTS students, but also community members with school-aged children. Last school year, Chartwells served a total of 171,168 meals. The prior year meal count was 82,230.
"When it was brought to our attention that some students were without meals on weekends, a Saturday drop-off and pick-up was established to meet their needs," said Anthony DePrince, district operations manager.
He added, "This recognition of Katie is well deserved. Katie and the meal distribution team members, including Nicole Pote, the assistant director of dining services, went above and beyond to ensure our families were fed. They often worked late into the night and fed 300-400 children and families every Saturday morning!"
Chartwells also contributes to students' learning at CCTS by hiring qualified seniors from the culinary arts program each year as cooperative education participants at both campuses. Some graduates have even been hired as full-time employees.
"I am honored and grateful for this recognition. It would not have been possible without Nicole, my assistant director, and my other staff members," said Smith. "Working at CCTS has allowed me to not only feed the students, but to also feed the minds of aspiring culinary students. I have hired co-op students to work for Chartwells and provided them with a firsthand opportunity to work in a high-volume kitchen for a worldwide corporation. It has been an honor to be a part of the CCTS family for the past several years. I look forward to the next several years of service as the school continues to grow as well as watching seniors graduate and go out into the world with skills and confidence."
Smith possesses an associate degree in culinary arts from Johnson and Wales University and serves on the CCTS School of Culinary Arts Advisory Board Committee. She has worked for Chartwells the past eight years, and previously worked for Dowling Food Service, and Chartwells Higher Education Dining Services that include Stockton University and Rowan University.
Katie and her husband, McDonald, live in Bellmawr. She has a daughter and one granddaughter.