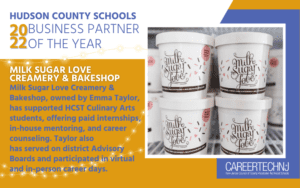 For providing years of hands-on support to students at Hudson County Schools of Technology (HCST), Milk Sugar Love Creamery & Bakeshop, located in Jersey City, is the district's 2022 Business Partner of the Year.
Owner Emma Taylor has been an enormous help to HCST Culinary Arts students, offering paid internships, in-house mentoring, and career counseling. She has served on district Advisory Boards and participated in virtual and in-person career days.
"Because she grew up in Jersey City, Emma understands our students and their needs," said Amy Lin-Rodriguez, superintendent of HCST. "For at least five years, she has been a tremendous help and mentor to our students during and after their high school careers."
Taylor has hired five students in the last few years and says there is always at least one student in the kitchen with her. She also has supported student fundraisers and even helped with networking.
"Emma and her Creamery represent the best of our community here in Hudson County," added Lin-Rodriguez. "She was born and raised here and decided to build her business here as well. That means a lot to our student population as they feel represented by someone who shares a similar experience. The paid opportunities she offers our students are invaluable, but it is the mentorship and in-house advising that has also been a huge benefit to our program. We feel this partnership is helpful to all parties and sets a great standard as we are building more partnerships within the community."
"I feel that being a mentor to students in my community is important because I believe that small businesses are important to a community," said Taylor. "I love showing students the impact a small business can have in a neighborhood or in a city and showing them that owning and operating a small business is an extremely rewarding career path."