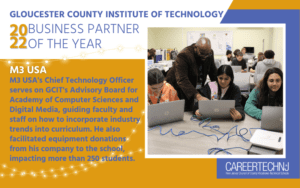 In today's digital world, partnerships between county vocational-technical schools and businesses form despite physical distance. In fact, Gloucester County Institute of Technology's 2022 Business Partner of the Year is located across state lines.
Headquartered in Ft. Washington, Pa., M3 USA provides various services to medical professionals such as market research, recruitment services, physician resources and advertising. About four years ago, company Chief Technology Officer John Ceci received an invitation to join the GCIT Advisory Board for Academy of Computer Sciences and Digital Media. Ceci had a friend on the GCIT faculty and was happy to pitch in.
Serving on the Advisory Board gave Ceci the opportunity to offer guidance to the GCIT faculty and staff related to curriculum and insight into current industry trends.
Additionally, Ceci has spearheaded donations from M3 USA of computer equipment and other hardware to the county vocational-technical school, impacting more than 250 students.
"Over four years, John Ceci has suggested what kinds of technology systems should be utilized and what essential job skills our students need," said Kevin Campbell, Computer Science teacher. "The partnership between M3 USA and GCIT helps the school to expand learning beyond the classroom and to prepare students to enter the workforce in a successful manner."
"When business partners connect with CTE programs, the school, the staff and the students all benefit from their input," said Michael Dicken, GCIT superintendent. "We are creating a more prepared student to be college-, career- and civic-ready. Partnerships enable vocational-technical schools to keep up with current trends and practices. We are proud to recognize M3 USA for its active participation in the development of our programs."