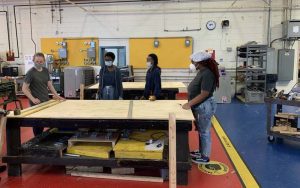 Read this story as it originally appeared July 11 in TAPintoBordentown.
Trades have always been an important part of the career and technical education provided at Burlington County Institute of Technology (BCIT). Historically, the seats have been filled with male students in CTE programs such as plumbing, HVAC, electrical and welding, with fewer than 10 percent of women going into non-traditional fields. Now, that's changing.
As the country's workforce evolves and as opportunity increases for the construction industry, companies that adapt and embrace diversity and inclusion are the companies that will be best able to compete in the marketplace and attract top candidates. All across America, building trades are making a huge effort to attract and retain females. Improving women's participation in construction careers is in everyone's interest, and BCIT wants to be at the forefront.
BCIT has adopted a new initiative to recruit more females into traditionally male dominated fields of career and technical education with the inception of the "Girls that Build" club.
Female students at BCIT were surveyed to determine interest and subsequently invited to join the after-school club. Club members rotate through welding, heating, ventilation & air conditioning, construction and electrical trades. The goal of the club is to encourage female students to consider a career in a field that is traditionally dominated by males.
The "Girls That Build" program is exciting and innovative. The program offers BCIT students the opportunity to learn a variety of skills aligned to high demand, high wage careers," said Dr. Lisa English, BCIT's Assistant Superintendent. "I am very proud and excited to be a part of this innovative experience and I look forward to our continued work next year with our movement for expansion into a club format."
"During the fall of 2021, the kickoff of our BCIT "Girls That Build" club will allow our students to participate in additional learning sessions and enhanced skill attainment options in a collaborative, project based learning environment which will include service options to assist some of our local community organizations," Dr. English said.
Tim Hagar, welding Instructor at BCIT, is excited about this club. Over the years, Hagar has seen more females enter the welding shop, but not as many as he would like. "This is a wonderful option for students to see careers in 'non-traditional' areas," said Hagar. "Giving them an introduction to how the trade works and what is involved… that gender does not make a career/trade, it is who you are and what you enjoy."
Like many aspects of education, the COVID-19 pandemic impacted the club, including initially getting it off the ground. However, things are looking up. Recently, the first members of "Girls that Build" had the opportunity to get their hands dirty and build, with eight female students participating in the first of many workshops that will expose them to the trades.
"I definitely underestimated the amount of learning I would do in Girls that Build. The set of information and skills that I acquired definitely goes beyond the classroom!" said one of the students. "Learning new skills and challenging yourself is where it's at!"