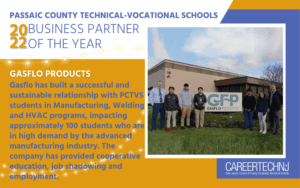 Having actively supported Passaic County Technical-Vocational Schools (PCTVS) for five years, Gasflo Products is the district's 2022 Business Partner of the Year!
Gasflo, of Fairfield, is a manufacturer of cylinder connection components, valves, fittings, and custom assemblies used in the packaging, transport, and process applications of compressed gasses and chemicals. The company has built a successful and sustainable relationship with PCTVS students in the Manufacturing, Welding and HVAC programs, impacting approximately 100 students.
"The high-demand advanced manufacturing industry calls for business partners who are well positioned to offer our students the best in advisory and mentoring assistance possible," said John Maiello, chief school administrator. "Our programs have flourished under the guidance of Gasflo, and we are honored to name it our Business Partner of the Year."
Through the years, Gasflo Products has provided cooperative education, job shadowing, and continuing education opportunities to PCTVS students, as well as full-time employment for many graduates. This year alone, Gasflo has hired six PCTVS interns.
Gasflo team members serve on an Advanced Manufacturing Advisory Committee, reviewing curriculum, suggesting types of equipment the program should add, and making school staff aware of current trends and industry practices.
"We are fortunate to have their support and assistance each year," added Maiello.