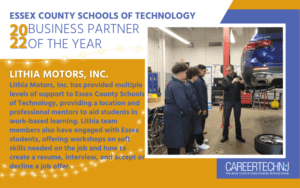 Lithia Motors, Inc. has provided multiple levels of support to Essex County Schools of Technology, earning the dealership the district's honor of Business Partner of the Year.
"We commenced our relationship with Lithia, the largest automobile dealership in the U.S., primarily to help our Automotive Technology students who were looking for part-time work," said Ed Finnis, Automotive Technology instructor. The district sought a supportive environment for students enrolled in its work-based learning initiative.
"As we worked together to facilitate student employment, Lithia offered additional assistance to help our students succeed."
Finnis specifically recognized Samantha Gleason, recruiter, and Steven Hodossy, service manager, for maintaining Lithia's ongoing involvement with the county vocational-technical school.
Additional assistance provided by them and their team has included Lithia opening up shops for field trips and job shadowing. Lithia team members also have engaged with Essex students, offering career-planning advice, including holding workshops on soft skills needed on the job and how to create a resume, interview, and accept or decline a job offer.
Company representatives serve on the school's Advisory Board. They have donated equipment and software to support hands-on learning, provided post-secondary education scholarships, and presented additional opportunities to spur career growth. Upcoming plans call for monthly tech-talks with the students and career-related events and activities that involve both students and their parents.
"Lithia is earnestly looking to develop a pipeline of future talent and will invest time and money to attract students into the automotive industry," said Finnis. "This will benefit us as we seek to grow our Automotive program."
On top of what they have done for the Automotive Technology students, the team at Lithia has offered to work with students in several other programs. The company is interested in bringing Essex Business students into its offices, using Graphic Arts and Advertising Design students to create signs and banners, and asking the Culinary students to create food for dealership events. This approach will benefit the students by exposing them to career opportunities in an industry they may not have considered.
"I am very excited to continue to grow our partnership and explore the new opportunities with Lithia Motors, one of the industry's leading dealer groups," added Finnis.