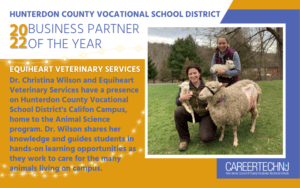 Dr. Christina Wilson was named Hunterdon County Vocational School District's (HCVSD) 2022 Business Partner of the Year for her dedication to the district's Animal Science students. The annual title is given by the district to an area professional or company that has made invaluable contributions to one or more of its career-focused programs.
Although busy as the owner and operator of Califon-based Equiheart Veterinary Services, which serves a four-county region, Dr. Wilson volunteers many hours to support students. She makes monthly visits to HCVSD's Califon Campus, where the Animal Science program has classroom space and access to animals on property. She shares real-world knowledge and hands-on learning opportunities with the high schoolers who aspire to one day follow in her footsteps.
As the official veterinarian for the Animal Science program, Dr. Wilson guides students in the care of many large animals, including alpacas, goats, sheep, and donkeys. She also serves on the program's Advisory Committee. As an advisor, she is one of many representatives from businesses, trades, and colleges who are relied upon to help keep educational programs challenging and relevant.
The Animal Science program, which operates out of HCVSD's Polytech Career & Technical School, enables students to relate principles of disease, anatomy and physiology, medical posology, terminology, and animal husbandry in order to guide decision-making related to animal health.
"She does so much for the students and the program," said Dr. Todd Bonsall, HCVSD's superintendent. "She treats all the animals, donates her time, and serves as an advisor. Last year, she helped take care of the sheep and had to give one an emergency C-section in the barn, which was great for the students to observe. They learn a lot from her."
Polytech's Animal Science Instructor Taryn Romanczak works closely with Dr. Wilson and sees the positive influence she has on the students and their growth as they prepare for the future.
"She has been instrumental in helping us with our leased ewes, providing opportunities for the students to work with the ewes and lambs and learn ultrasounding and pre-natal and neonatal care," explained Romanczak. "Dr. Wilson also works with the students to teach them hands-on skills in radiology, vaccinations, and deworming protocols for our livestock species in the barn; lameness evaluations; and dental care, to name a few topics. She also performed surgeries, such as a tooth removal (along with Mountain Pointe Equine), blood transfusions, and a C-section. Dr. Wilson donates countless hours, time, and energy to the Animal Science program."