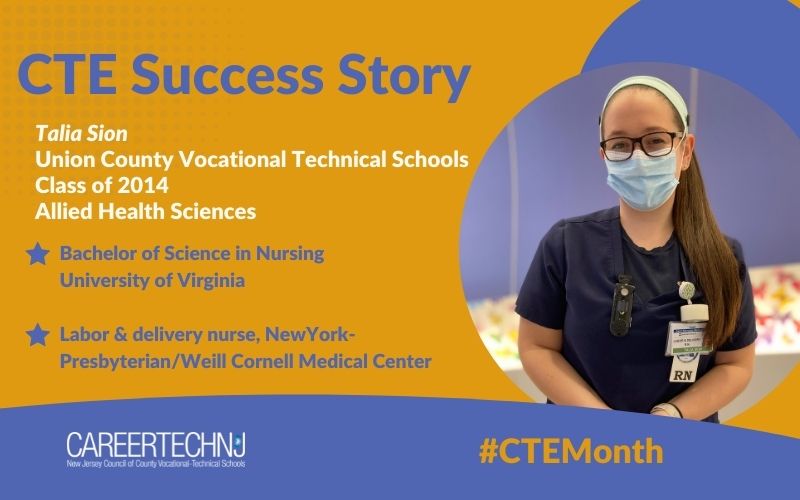 Talia Sion's education at Union County Vocational-Technical Schools (UCVTS) solidified her decision to pursue a career in healthcare. Now a labor and delivery nurse at NewYork-Presbyterian/Weill Cornell Medical Center, she started her career in the UCVTS allied health sciences academy.
"If it weren't for my time in the academy, I don't know if I would have found my interest in the nursing field so early on," said Sion, "or even at all. The different healthcare-based electives I took and special certifications I acquired, such as an emergency medical technician, really served as my first look into the field and guided me into my career today."
Sion, originally of Springfield, N.J., also credits her specialized high school education for preparing her for the challenges and expectations of nursing school at the University of Virginia.
"Nursing school is known for being hard," said Sion. "You have to juggle a full-time class schedule along with hundreds of long clinical hours in the hospital all while trying to experience a normal undergraduate experience with extracurriculars and a social life. Being part of the allied health sciences academy where the classes were rigorous and my teachers held us to quite high standards really put me in the mindset to work hard and succeed from day one."
And without what she remembers as a "positive" experience in nursing school, she wouldn't have the career she's had for the past four years. After earning a Bachelor of Science and Arts (BSA) degree in nursing, Sion is a registered nurse who has worked in labor and delivery and experienced the peak of COVID-19 in a New Jersey hospital.
Throughout Career and Technical Education Month in February, the New Jersey Council of County Vocational-Technical Schools showcases how CTE works by sharing success stories from alumni of the 21 county vocational-technical schools.