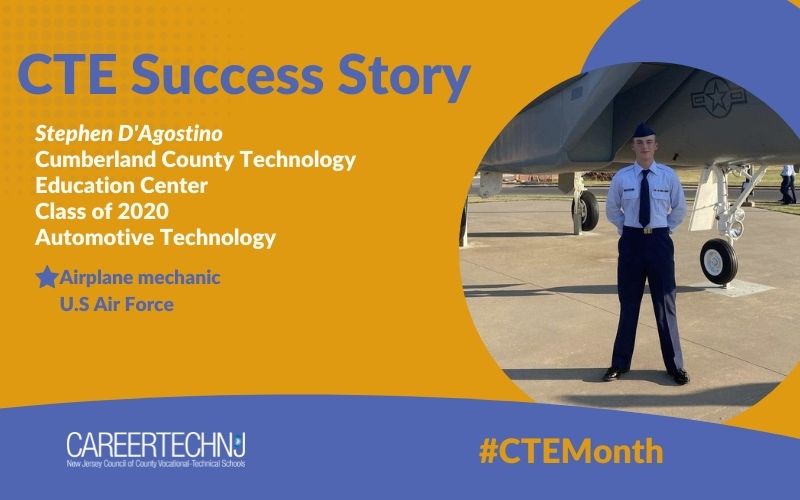 After graduating from the Cumberland County Technical Education Center (CCTEC) in 2020, Stephen D'Agostino spent the next two years serving in the U.S Air Force.
He completed training in CV-22 Crew Chief Tech School and is now an airplane mechanic, utilizing knowledge and skills obtained from his unique high school education.
"It was actually CCTEC's career fair that led to me joining the Air Force," said D'Agostino. "Thankfully, I was overly prepared for my military training and way ahead of most of my class because of the automotive technology program. We were taught everything from hand tools and flight control basics to every single component that makes up a very complex aircraft."
D'Agostino felt like a traditional high school path just "wasn't right" for him, and he couldn't be more grateful for all that CCTEC's program provided.
"My experience far exceeded my expectations," said D'Agostino, "from great teachers that actually cared about different learning styles to the family that grew throughout the shops. The program also provides opportunities like the SkillsUSA program as well as unlimited pathways to obtain scholarships."
D'Agostino plans to be a career airman, serving 20 years with the Air Force and returning home to his roots in Upper Deerfield, N.J.
"I plan to retire when I'm 38 and work on heavy diesel trucks again," concluded D'Agostino. "You can't take a torch or 14-pound sledgehammer to an aircraft like you can a big diesel, and I really miss that."
Throughout Career and Technical Education Month in February, the New Jersey Council of County Vocational-Technical Schools showcases how CTE works by sharing success stories from alumni of the 21 county vocational-technical schools.