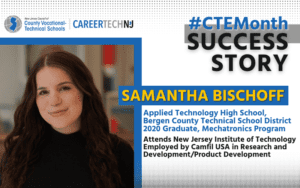 After graduating from Applied Technology High School in 2020, Samantha Bischoff, of Little Ferry, moved on to study manufacturing engineering technology at the New Jersey Institute of Technology (NJIT). She has served as the representative for her major at the Institute, acting as a liaison between students and faculty and demonstrating professionalism and poise in the role.
Bischoff will graduate in May 2023 – one year early!
At NJIT, Bischoff continued to build on the broad experiences she gained through her Bergen County Technical School District education. Her participation in the district's Applied Technology High School conditioned her to seek out opportunities for hands-on learning and additional experiences to test and grow her skills.
"I worked at the NJIT Makerspace for two years, where I taught students how to apply the theories they are learning in the classroom, including hand tools, 3D printing, manual machining, CNC machining, laser cutting, and basic wood shop etiquette," Bischoff said.
She also competed in a design showcase, during which she presented a functioning dual-purposed device charger, compatible with both Samsung and Apple devices.
Throughout her time at NJIT, Bischoff also was awarded a Six-Sigma White Belt Certification, with plans to continue that journey. She also participated in the Alpha Sigma Tau sorority.
Off campus, she has worked as a Research and Development/Product Development technician at Camfil USA, where she assists in the management of technology and quality assurance.
After graduation, Bischoff plans to work full time in her field and to pursue a master's degree at NJIT.
"I owe all of my accomplishments to my roots, which are at Applied Technology High School," Bischoff added. "The opportunity I was given to be a student at ATHS was a huge blessing, and I will be forever grateful."