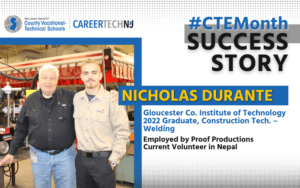 Nicholas Durante, of Swedesboro, is putting his own career on hold to help others. The 2022 Gloucester County Institute of Technology (GCIT) graduate has joined the International Volunteer HQ (IVHQ), a New Zealand-based organization, to spend eight weeks in Nepal. Here, he is applying the skills he acquired in GCIT's construction technology-welding program to assist with various construction and renovation projects.
Durante is aiding communities in need by helping complete these important projects. He is building houses and schools, making a significant and lasting impact through his volunteer work.
Durante traveled to Nepal with valuable skills and experiences from high school. In addition to what he learned and practiced in his customized welding classroom at GCIT, he gained additional practice by participating in SkillsUSA. He earned both silver and gold medals in state contests.
Durante continues to learn in Nepal working alongside local foremen. When he returns, he will be more than ready to enter the workforce. He already has a position secured with Proof Productions.
"Good luck, Nicholas! We are proud that you are giving your time and skills to this wonderful cause!" said Christine Datz, director of student personnel services for GCIT.