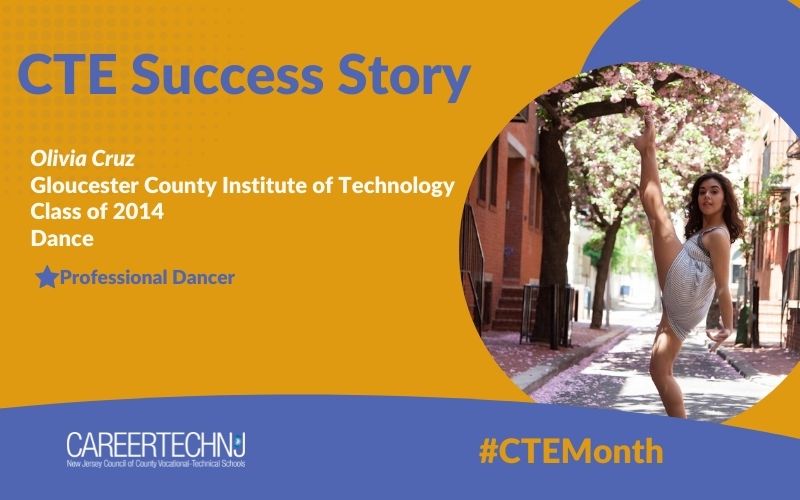 Olivia Cruz has danced her way into the Magic Kingdom and the set of a major motion picture. She first learned that she could turn her love of dancing into a career at Gloucester County Institute of Technology. While enrolled in the school's Performing Arts-Dance program, she took advantage of additional time to hone her talents. She also sought advice from teachers, who helped her plot important next steps toward her goal of becoming a professional dancer.
"They gave me excellent advice when it came to applying for colleges and preparing for auditions," Cruz said. "Lastly, they promoted the artistry and creativity that comes with being an individual in your craft. I truly felt much more prepared to take on dance as a full career because of my time at GCIT."
After graduating from GCIT in 2014, Cruz attended the University of the Arts in Philadelphia. While enrolled, she completed the Disney College Program. She found it truly the "most magical place on Earth" after getting hired for Mickey's Most Merriest Celebration, a show she performed on Cinderella's Castle Stage during the holiday season. She was beginning to realize her dream.
Following her Disney experience, Cruz moved back to the Northeast to complete her degree and begin auditioning. When she graduated in 2018 with honors, she walked away with a bachelor of fine arts degree and extra motivation to succeed as a first-generation college graduate.
Cruz spent over four hours in line for an open call to audition for Steven Speilberg's "West Side Story" remake. She ended up staying in New York City for multiple callbacks over three days. Although she was not casted, she was asked to stay on as a dance double for the film. She participated in rehearsals and was on set for the big musical numbers, "Dance at the Gym," and "America."
"One of my favorite parts was watching dancers, who I idolized and followed throughout their careers, dance right in front of me! I also loved being immersed in the elaborate sets. It was like walking right into the 1950s," she said.
Cruz continued, "This film and story in general felt very personal to me, as my own abuelita moved from Puerto Rico to New York in pursuit of a better life. I feel honored to be a part of a project that tells the stories of so many Hispanic families and promotes diverse and accurate representation in the performing arts industry."
Cruz enjoyed being a part of a film and gaining experience practicing and performing in a new setting. She has traditionally performed on stage, working for multiple regional theaters, as well as teaching and choreographing. She most recently choreographed "ELF-the Musical" at the Levoy Theater in Millville, N.J.
"As the world continues to recover from the pandemic, I am hoping to get back on stage myself in the near future and am open to more film adventures as well."
Throughout Career and Technical Education Month in February, the New Jersey Council of County Vocational-Technical Schools showcases how CTE works by sharing success stories from alumni of the 21 county vocational-technical schools.