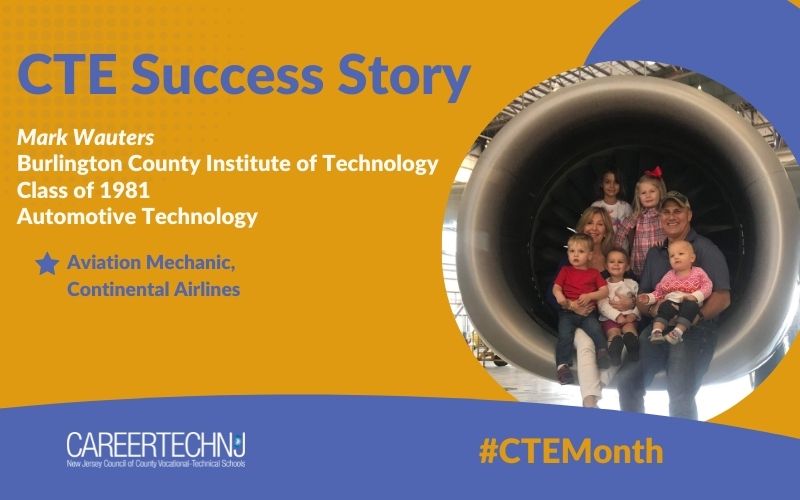 Mark Wauters credits his experience at Burlington County Institute of Technology with steering him in a direction he may not have headed on his own. The 1981 graduate of BCIT's automotive mechanics (now automotive technology) program has had a long, successful career as an aviation mechanic. Then a Medford, N.J. resident, his career journey started at BCIT, where he could explore career options.
Wauters said the BCIT program taught him the basics of mechanical and electrical work and helped him realize he wanted to pursue a career in these fields. When the Spartan School of Aeronautics visited campus, Wauters further refined his future plans. He signed up for the school's two-year program to receive an Airframe and Powerplant license, as well as an associate degree.
"Graduating from John K. Ossi, now known as the BCIT Medford Campus, prepared me for the next level of training at Spartan and gave me a leg up on the other students starting," Wauters said.
After graduating in 1983 from Spartan, Wauters could not immediately find work with the airline industry in a downturn because of deregulation. He joined the Airforce National Guard, which enabled him to work on military aircraft as a civilian. He finished military basic training and was performing his monthly duty at McGuire Air Force base in 1985 when a job opportunity arose with Continental Airlines in Houston, Texas. Wauters was hired and remains with the company today – more than 35 years later.
Throughout Career and Technical Education Month in February, the New Jersey Council of County Vocational-Technical Schools showcases how CTE works by sharing success stories from alumni of the 21 county vocational-technical schools.