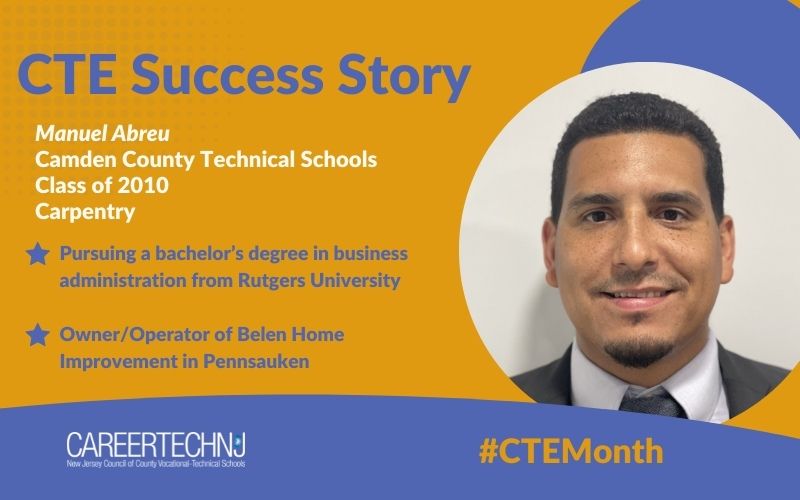 Manuel Abreu has been working in construction since graduating from Camden County Technical Schools' (CCTS) carpentry program in 2010, and he credits his thriving career to that education.
"Choosing a vocational school was the foundation to my success," said Abreu. "It surpassed my expectations, and my experience allowed me to pursue my dreams."
Abreu owns and operates Pennsauken-based Belen Home Improvement, a real estate remodeling company that focuses on working with investors to purchase homes and get them ready for resale in the current market. He is also pursuing his bachelor's degree in business administration from Rutgers University.
"CCTS helped me develop the skills I needed to be a successful business owner in the construction trades and also provided me with the knowledge I needed to continue my education," said Abreu. "I now employ several students as part of a co-operative education program and am proud to contribute to my community by renovating and building beautiful homes."
Abreu believes learning a trade in high school paved the way for his career and has the potential to do the same for many who choose the same path. His plans for the future include continuing to make a difference by utilizing the valuable skills he's honed from his CCTS education.
"My time at CCTS showed me the sky's the limit," said Abreu. "I bring homes back to life, and eventually, I'd like to be part of a larger development where I can build communities for generations of families and leave a path for my children to follow."
Throughout Career and Technical Education Month in February, the New Jersey Council of County Vocational-Technical Schools showcases how CTE works by sharing success stories from alumni of the 21 county vocational-technical schools.