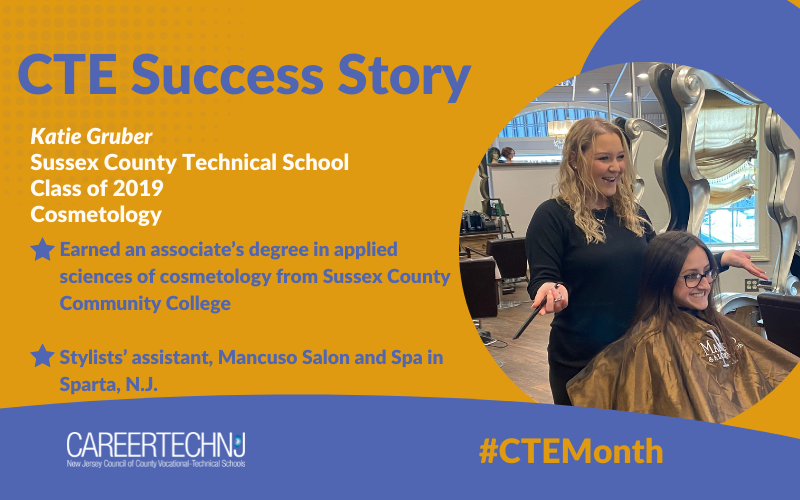 Katie Gruber has made the most of every advantage offered during her educational path, starting with enrollment at Sussex County Technical School (SCTS). In addition to the state-required coursework for general high school education, she came away with work-worthy skills in cosmetology.
"My four years at SCTS provided me with the foundation necessary to enter directly into the workforce," the Wantage resident said. "The structure of the cosmetology program gave me the additional theory and hands-on experience to feel prepared going from school to industry."
She also opted for a jump-start program offered through Sussex County Community College, from which she graduated just a year later with an associate's degree in applied sciences (AAS) in cosmetology.
"When I started the AAS program, I realized how well SCTS had prepared me not only for further education, but also in the workforce," Gruber said. "I don't think I would have been as confident or successful at working in a salon and being a full time college student" without that foundation.
Gruber is a stylists' assistant at Mancuso Salon and Spa in Sparta, N.J. Most days she gathers supplies, shampoos clients, mixes colors and sterilizes tools to make the job of a lead stylist easier. Some days, she welcomes clients to her own station.
Her five-year career plan is to be the lead stylist who teaches an assistant, and also to learn more about innovations that address the problem of thinning or diminishing hair.
"My goal is that in 10 years I will have my own clientele and a booked-solid schedule, and I'll be making people feel the best they've ever felt about themselves."
Throughout Career and Technical Education Month in February, the New Jersey Council of County Vocational-Technical Schools showcases how CTE works by sharing success stories from alumni of the 21 county vocational-technical schools.