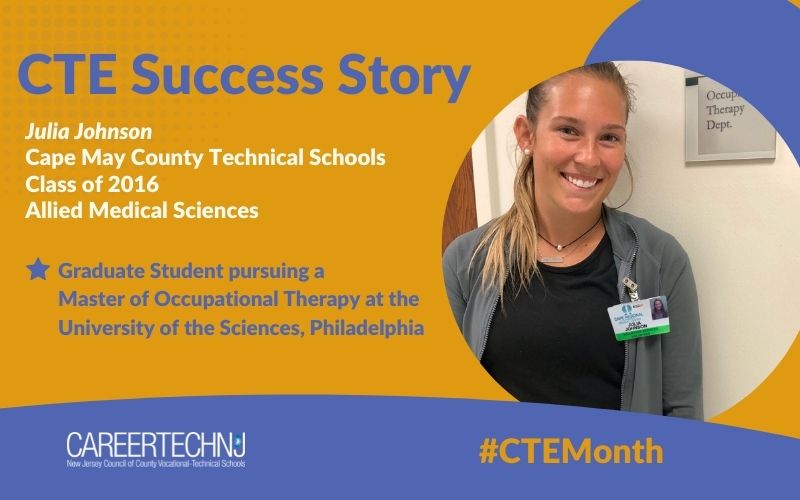 In her first year at Cape May County Technical High School, Lower Township's Julia Johnson took an exploratory class that introduced her to a range of career options in healthcare. She remembers taking a special interest in occupational therapy, learning the average salary and job opportunities available, as well as the educational requirements to pursue these opportunities. Her interest was piqued, and today, she is just under a year away from completing the final leg of her educational journey to become an occupational therapist.
Johnson will graduate in January 2023 with a Master of Occupational Therapy from the University of the Sciences, Philadelphia. She credits her Cape May Tech experience with helping her both discover a career path that excited her and gaining foundational knowledge and important executive skills to succeed in a rigorous academic program, both in college, and now, graduate school.
"As a graduate student, I still use the study methods, tools and flashcard technique my Cape May Tech instructor shared with my high school class," Johnson said. Johnson majored in allied medical at the county vocational-technical high school, graduating in 2016. She then went on to earn a sports management degree from Rutgers University in 2020, before gaining acceptance to the University of the Sciences.
As a former career and technical education student, Johnson is no stranger to hands-on learning and understands its benefit in helping her both practice what she is learning in the classroom and further refine her career aspirations. She has already completed an internship through Bacharach in cardiac rehabilitation and occupational therapy. She will begin occupational therapy fieldwork this summer in North Jersey working with pediatric patients.
"Once I graduate next year, I plan to pursue employment in school-based pediatrics and sports therapy or become a traveling occupational therapist," Johnson said.
Throughout Career and Technical Education Month in February, the New Jersey Council of County Vocational-Technical Schools showcases how CTE works by sharing success stories from alumni of the 21 county vocational-technical schools.