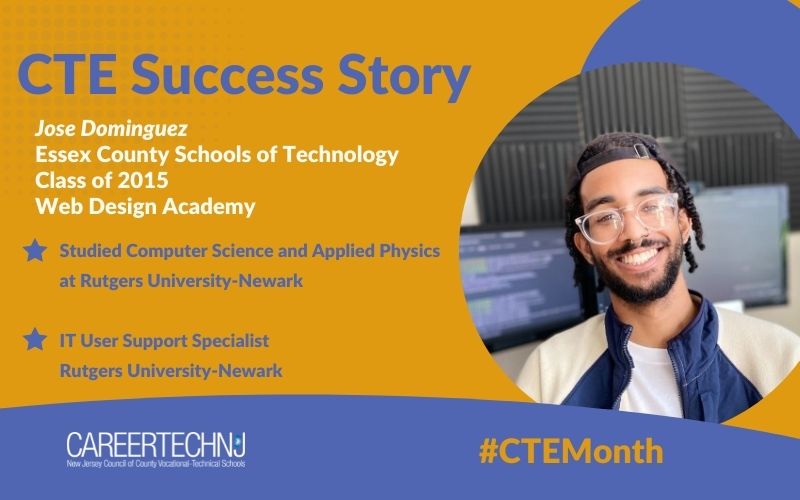 Jose Dominguez graduated from the Essex County Schools of Technology (ECST) Web Design Academy in 2015 with a dual focus in web development/telecommunications and computer repair. He also was a member of the district's Robotics Club.
"My experience at ECST really prepared me for college and contributed to my career success," said Dominguez. "It allowed me to further develop my interest in coding and physics and gave me the opportunity to plan for the future."
Dominguez said he liked tinkering with things from a young age – occasionally breaking objects like remote control cars just to see how they were made before putting them back together. At ECST, the curriculum verified his passion for technology, giving him hands-on experience building computers, websites, digital applications, and robots.
"ECST gave me a great head start," emphasized Dominguez. "I didn't have to waste time in college figuring out what I wanted to do. I knew. I was given knowledge, experience, and even certifications that allowed me to work as a freelancer while in college and gain credibility."
Dominguez studied computer science and applied physics at Rutgers University-Newark and now works there as a user support specialist, managing and working collaboratively with a dynamic student team to provide IT support to the campus community.
"I also teach an online coding course for kids in addition to other freelance projects," added Dominguez. He recognizes that teaching is a way for him to pass along much of what he enjoyed about his own focused learning as a high school student. "I loved all the cool stuff I was able to do back then. I'm grateful for my education at ECST and how it benefited my future."
Throughout Career and Technical Education Month in February, the New Jersey Council of County Vocational-Technical Schools showcases how CTE works by sharing success stories from alumni of the 21 county vocational-technical schools.