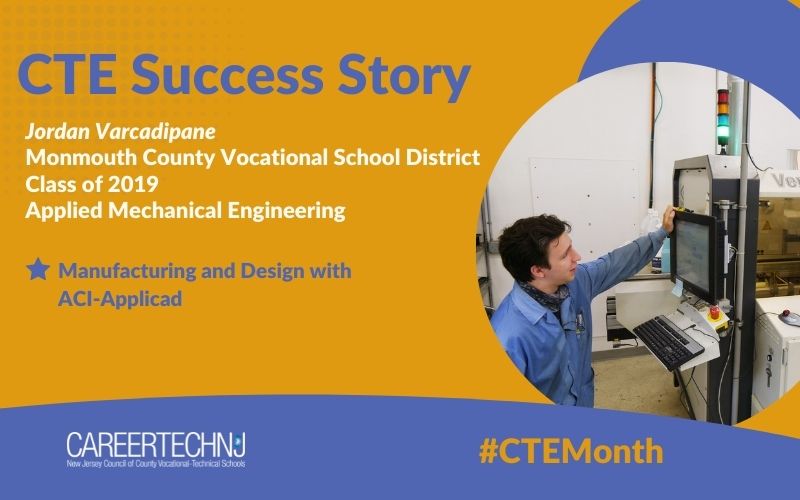 Jordan Varcadipane graduated from Monmouth County Vocational School District's advanced manufacturing program – now called applied mechanical engineering – in 2019. In just a few short years, he has already switched jobs to advance within the manufacturing field.
"This program aided me first in finding a career path I enjoy, and from there, easily advancing due to acquiring different skills that seemed to be unrelated, but came together to improve my performance and work ethic," he said.
Varcadipane, a Tinton Falls native, landed a job after graduation at Shore Printed Circuits, where he interned while enrolled at MCVSD. He has since moved on to work in manufacturing and design with ACI-Applicad. His current employer was initially founded to provide printed circuit design services to the electronics industry, but has since expanded services to include circuit engineering and turnkey contract manufacturing.
In addition to his previous role at Shore Printed Circuits, Varcadipane honed a range of skills in MCVSD's advanced manufacturing program, which was taught in partnership with Festo Didactic, Inc., a leading provider of equipment and solutions for technical education. Students learn in an industrial park owned by the company and benefit from having access to training equipment in all areas of technology in factory and process automation.
The district's real-world learning space helps prepare students, like Varcadipane, to transition from high school right into industry, as well as those who choose to pursue higher education.
Throughout Career and Technical Education Month in February, the New Jersey Council of County Vocational-Technical Schools showcases how CTE works by sharing success stories from alumni of the 21 county vocational-technical schools.