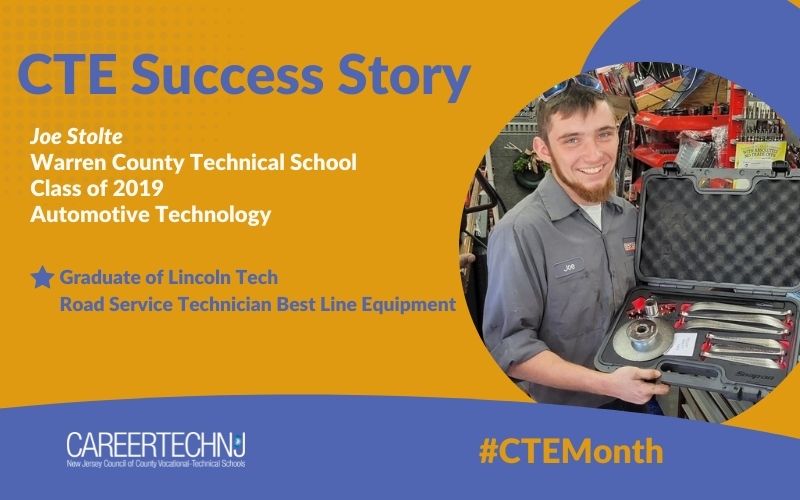 As a child, Joe Stolte spent days off from school at his father's heavy truck repair workplace. As a high schooler, he learned those skills formally at Warren County Technical School (WCTS) and also working alongside his dad at Dig's Diesel Services in Califon, N.J. As an adult, Stolte brings all of his experience and know-how to Best Line Equipment, where he works as a road service technician at the Allentown, Pa., location.
"When I started with Best Line Equipment, I had more experience in engine diagnostics and repair over other technicians who were years older than me and (sometimes had more) years of experience on paper," he said. "But they didn't have the drive, comprehension, experience and willingness to complete engine jobs."
Stolte is used to excelling. He graduated at the top of WCTS's automotive technology Class of 2019 and continued studies at Lincoln Tech in Allentown, Pa.
"I was prepared for quite a few of my classes due to the Automotive Service Excellence (ASE) certifications that I earned at Warren Tech, as well as the hands-on lessons I acquired while in the heavy truck repair field."
At Warren Tech, Stolte found state-of-the-art automotive diagnostic and repair equipment, as well as teachers to lend a hand and answer questions. It paved the way for Lincoln Tech, where he also finished coursework among other high-achieving graduates. In fact, teachers often asked him to coach other students.
By the time Stolte joined Best Line, the Washington, N.J., resident had more experience in engine diagnostics and repair than some of the employees who had been there longer. He would be happy to stay with the company and advance to the management level, but he also hopes to expand his knowledge to include cars, motorcycles, machines and maybe boats as he eyes his own business.
"I'm hoping to have a personal barndominium (residence with expansive workspace) where I can complete jobs on the side for additional income or, if I'm lucky and the economy is right, own and operate Stolte Specialties Diesel Service."
Throughout Career and Technical Education Month in February, the New Jersey Council of County Vocational-Technical Schools showcases how CTE works by sharing success stories from alumni of the 21 county vocational-technical schools.