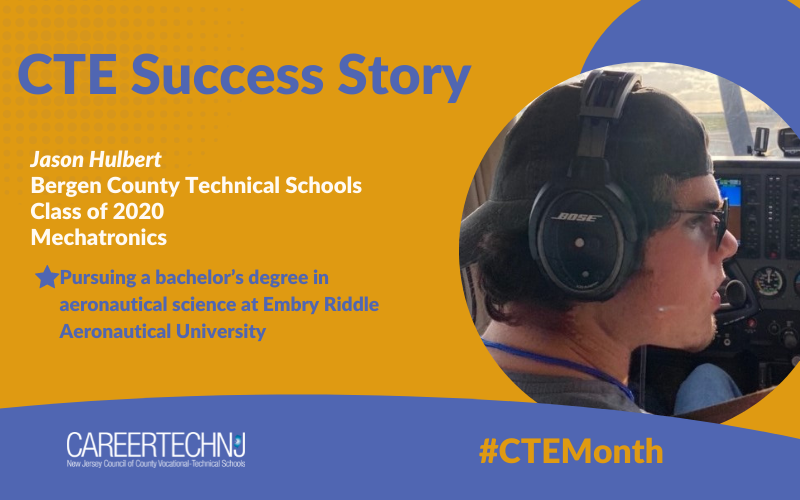 The sky's the limit for Jason Hulbert, who is balancing a paying job with pursuit of a degree in aeronautical science. Two years beyond the Applied Technology High School (ATHS) program at Bergen County Technical Schools, he sees that experience with the 20/20 clarity of hindsight.
"I now realize how well ATHS set me up for success, not only in further education but also in the workplace," Hulbert said.
ATHS is located on the campus of Bergen Community College (BCC), which set a mature stage for education. Hulbert excelled in its mechatronics program. The Midland Park resident also met BCC Professor William Klappert, who continually sparked his interest in aviation.
He completed an associate of science degree at BCC and enrolled at Embry Riddle Aeronautical University. That Daytona, Fla.-based school has a robust online presence, and Hulbert is studying for a major in aeronautical science and a minor in human factors and psychology.
Meanwhile, Hulbert is working for Luxury Living by Michael Hern while completing his education. He is the personal assistant to the CEO of that Weehawken, N.J.-based real estate company.
ATHS connected Hulbert to Hern during his junior year; he completed a senior year internship at the Luxury Living office.
"I can thank ATHS for giving me the ability to make connections with outstanding educators, mentors, peers and employers," Hulbert said.
Throughout Career and Technical Education Month in February, the New Jersey Council of County Vocational-Technical Schools showcases how CTE works by sharing success stories from alumni of the 21 county vocational-technical schools.