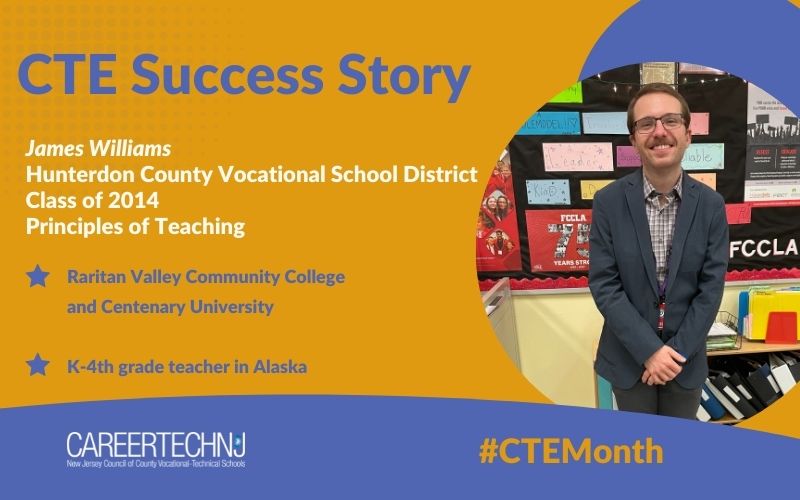 James Williams graduated in 2014 from Hunterdon County Polytech Career & Technical High School, where he studied to become a teacher. He was initially hesitant about the profession, but the hands-on learning helped him fall in love with being in front of the classroom.
"It was lesson planning and performing that was gratifying and exciting," said Williams. "I didn't know it was possible to make such deep connections with young children, and I was doing that – making strong bonds that led to strong achievements – and it was inspiring to me."
Polytech's program is now known as Principles of Teaching, which combines the early childhood education and Teacher Academy programs that Williams attended. At Polytech, Williams was involved with the high school's chapter of Family, Career and Community Leaders of America (FCCLA). He won both gold and silver awards in national competitions and served as the chapter president during his senior year.
"In FCCLA, I was doing a 'teach and train,' and I was paired with an elementary school classroom where I had to shadow the teacher," explained Williams. "I walked away knowing that was the path I wanted to take. FCCLA taught me professional demeanor, presentation skills, and the value of hard work."
Williams went on to study at Raritan Valley Community College and Centenary University and now teaches grades Kindergarten through fourth in a small school in Alaska. He recently returned to his alma mater to speak with current Polytech students about his experiences teaching and what might be next for him as he considers taking his career to another level, which likely includes a move back to the East Coast.
"It's another transition time in my career, and Polytech helped me make that first big transition to become a teacher," concluded Williams. "So, it just felt right coming to speak with future educators and share what this last chapter has been like for me."
"He's come such a long way and done so much in 10 years," said Polytech Instructor Natalie Guarino of Williams. "It makes me proud that it all started here."
Throughout Career and Technical Education Month in February, the New Jersey Council of County Vocational-Technical Schools showcases how CTE works by sharing success stories from alumni of the 21 county vocational-technical schools.