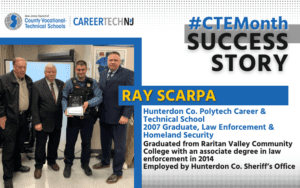 Ray Scarpa used to walk the halls of Hunterdon County Polytech Career & Technical School as a law enforcement and homeland security student until his graduation in 2007. From the beginning of this 2022-2023 school year through Thanksgiving, Scarpa returned to these halls – but this time he patrolled them as the School Resource Officer (SRO). He gladly accepted the temporary SRO position to help his alma mater until a full-time replacement took the role in late November. His hard work and dedication to others recently earned him the Hunterdon County Vocational School District's (HCVSD) 2023 Successful Graduate Award.
"Receiving this award is amazing," said Scarpa. "It's fulfilling to know I'm making a positive impact on others. Being an SRO is a wonderful opportunity because it lets you connect with students, parents, and staff on a whole different level."
As a Sheriff's Officer for Hunterdon County, Scarpa heard about the SRO opening at HCVSD's shared-time high school. Immediately interested, he took a week-long course in August to become certified for the position to help out his school.
"Once the kids got to know me, they opened up…" said Scarpa. "I just wanted them to know I was there for them. I'm their first line of defense, and I'm there for their health and well-being."
Now that he has the certification, he returns when needed, filling in when HCVSD SROs need time off. Scarpa currently works as a Sheriff's Officer and serves in the Army National Guard. He has provided disaster relief to those affected by Hurricanes Irene and Sandy. He was called on, too, for Covid missions such as helping those at the Paramus Veterans Memorial Home and with vaccine distribution.
Scarpa graduated from Raritan Valley Community College with an associate degree in law enforcement in 2014. He credits his start at Polytech for encouraging his interest in law enforcement and giving him the tools he needed to find success in the field.
"My classes at Polytech were very hands-on and interactive," he said. "The Sheriff visited us, and we had a K9 unit visit, investigated a detailed mock crash scene, and did a ride-along. I really got an idea of what law enforcement jobs entail, from being a corrections officer to working for the big, three-letter organizations."
The two-year law enforcement & homeland security program provides an introduction and overview of homeland security and focuses on security policy, planning, and operations dedicated to the protection of U.S. territory, assets, infrastructure, institutions, and citizens from external threats.
In the second year, students focus on the many careers offered in law and public safety. Major career pathways, including emergency and fire management, security and protective services, law enforcement services, legal services, and correctional services are introduced.
Scarpa is one of many graduates who leave ready to make a difference in the world. Congratulations to him for earning the title this year as the district's Successful Graduate.