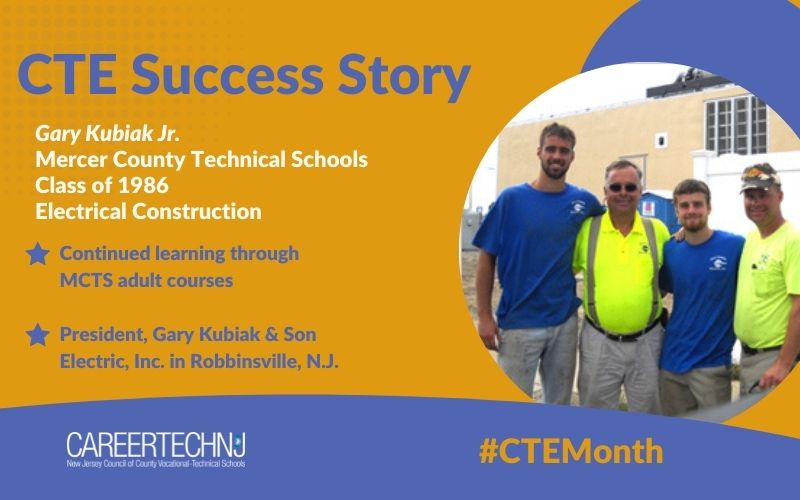 After graduation from the Mercer County Technical School (MCTS) electrical construction program, Gary Kubiak Jr. not only continued his education with MCTS evening classes for adults, but also went on to establish a business with his parents known as Gary Kubiak & Son Electric, Inc.
"My experience in the electrical construction program through MCTS served as the springboard that allowed me to enter the industry 33 years ago," said Kubiak Jr.
A Robbinsville native, Kubiak Jr. is now president of the family-owned business, operating a 5,200 sq-ft. facility just off Route 130 in his hometown.
"We take pride in having a dedicated family business," said Kubiak Jr. "Our drive for excellence has not only fostered my career, but we've been able to hire many other MCTS graduates."
Gary Kubiak & Son Electric, Inc. handles commercial and industrial electrical needs. The team manages projects in excess of $5 million, as well as smaller projects for municipalities. Each is handled with the utmost quality and professionalism.
"We continuously strive to provide our customers with top-of-the-line electrical service," Kubiak Jr. concluded. "And I can't thank MCTS enough for providing an entry-level high school career and technical education program that unlocked my 30-plus year journey."
Throughout Career and Technical Education Month in February, the New Jersey Council of County Vocational-Technical Schools showcases how CTE works by sharing success stories from alumni of the 21 county vocational-technical schools.