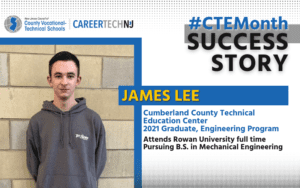 As an alumnus of Cumberland County Technical Education Center's (CCTEC) engineering program, James Lee reflects on the important guidance he received as a high school student. The freedom to explore, combined with technology and instructors aiding that exploration, helped him set clear college and career goals. 
"When applying to CCTEC as a middle schooler, I didn't know exactly what I wanted to do in the field of engineering," Lee said. "All I knew was that I had a passion for math, science, and designing new things, which was what drew me to the engineering program in the first place." 
CCTEC's engineering program was structured perfectly for Lee's educational development. Each year, he was exposed to different fields, which helped him gauge his interest in many different career paths. While he did not love every new field he was exposed to, there were many aspects of engineering that piqued his interest. These included 3D modeling, Computer-Numerical Control (CNC) machines, and the entire CAD (computer-aided design) process. He quickly became proficient in these tools and skills and continues to use them after graduation.  
As a full-time engineering student at Rowan University, Lee works 16 hours a week as an assistant project manager at Tri-State Construction (Millville). During school breaks, he works full time. 
"Learning about various tools and methods at CCTEC has allowed me to excel at Tri-State. I not only use basic CAD programs, but also much more advanced programs that utilize Built-In Information (BIM) and Virtual Design and Construction (VDC) technology," he explained. "I've been able to take blueprints generated by engineers and architects to produce BIM models that assist the carpenters as they perform the labor required to complete our projects." 
He continued, "Though I am a recent high school graduate and have had a job for only a little over a year, I already have an idea of where my passion lies in the engineering field, thanks to my experiences at CCTEC and Tri-State. I am particularly appreciative that CCTEC showed me all the different disciplines that the engineering field has to offer, giving me the confidence to pursue virtually any direction in the future."