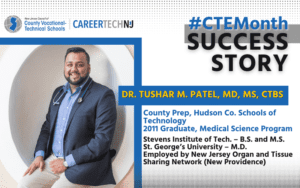 Not many physicians across the U.S. can say that they were directly exposed to medicine at 13 years old. Tushar M. Patel, MD, MS, CTBS, had the unique opportunity to begin studying medicine at this young age. He attended County Prep High School's medical science program from 2007-2011, which helped him jump a step or two ahead on his career path to becoming a doctor.
 "While at County Prep, I took college-credit courses in health sciences at UMDNJ (now Rutgers School of Health) and completed community internships and observations in Medical Science," Dr. Patel explains. "I also represented Hudson County Schools of Technology (HCST) in state and national medical science competitions, spearheading my confidence and refining my skills." 
 County Prep's partnership with Jersey City Medical Center EMS and the Hoboken Volunteer Ambulance Corps. allowed Dr. Patel to get CPR-certified and benefit from emergency medicine exposure starting at the age of 16. Patel graduated from high school with a diploma, a certificate in medical sciences, and a N.J. State EMT license. These educational and work experiences helped him make a career decision before entering college and enabled him to work as an EMT while pursuing his postsecondary education.  
"Since 2014, I have had the privilege of working for the New Jersey Organ and Tissue Sharing Network, a federally designated, non-profit organization responsible for the recovery and placement of donated organs and tissue in the Garden State," Patel added. "My current role focuses on working alongside transplant professionals and healthcare workers throughout 55+ hospitals in New Jersey and to help the nearly 4,000 N.J. residents awaiting a life-saving organ transplant." 
 Patel credits HCST and County Prep for his success. 
"There is no doubt that attending a vocational-technical school has supported my confidence, grit, and ability to connect with healthcare professionals across the state," he explained. "I am thankful for the solid foundation I received in the medical science program at County Prep High School, and I hope my story highlights the importance and advantages of CTE."