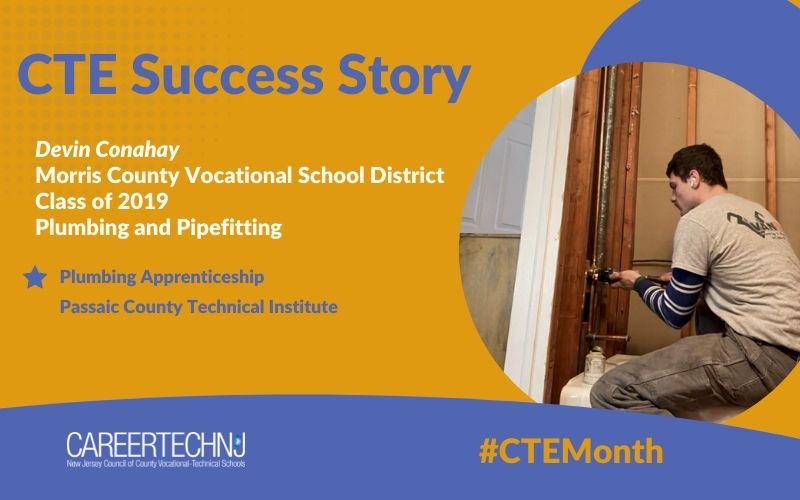 Devin Conahay graduated from Morris County Vocational School District in 2019 after four years of studying the plumbing and pipefitting trade. The district's program exposes students to the essential concepts and principles of plumbing, pipefitting, and heating in residential and commercial environments. The experience helped Conahay begin to narrow his career goals and the skills he would need to attain them.
"The plumbing program and Mr. Carl Carbone's classes have put me well on my way to a successful career," said Conahay. "I learned so much, and I carry it all with me from day to day."
Conahay was an individual plumbing gold medalist at the SkillsUSA competition his senior year and was given the opportunity to compete at the national level in Kentucky.
"The best part of that experience was being able to meet people from across the country who really care about what they do," said Conahay. "In addition to SkillsUSA, I was given great opportunities at Morris County like visiting worksites and plumbing shops to see how things in the field really work."
Today, Conahay has plenty of field experience under his belt after completing a plumbing apprenticeship through Passaic County Technical Institute. That additional training has allowed him to earn as he continues to learn, both through classroom instruction and on the jobsite. He is now well prepared to find success in his field, which has high demand for skilled workers just like him.
Throughout Career and Technical Education Month in February, the New Jersey Council of County Vocational-Technical Schools showcases how CTE works by sharing success stories from alumni of the 21 county vocational-technical schools.