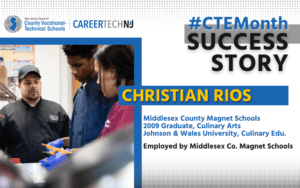 Christian Rios always liked to cook. As a five-year-old, he made breakfast for his parents, resulting in a meal that was more oil than eggs. But his parents made gentle suggestions and encouraged him to try again. 
His innate love for cooking and some life experiences later  inspired him to enroll in the culinary program at Middlesex County Magnet Schools (MCMS) at the Perth Amboy campus. 
"When I was in middle school, I looked for classes that would engage me more than a traditional high school program," Rios said. "I was definitely influenced by my grandmother who was a good cook and a good teacher. We cooked together for many years, side by side after school." 
Graduating from MCMS in 2009, he enrolled in Johnson & Wales University (Rhode Island) and graduated with an associate degree in culinary education. From there, he took a course in bartending at the National Bartending School in Woodbridge. Immediately after Rios became certified, the school hired him to teach bartending to older, Spanish-speaking students. 
"They needed someone bilingual who was interested in teaching," he explained. "I had always talked to Chef Stephen Moir, my mentor at MCMS, about how much I wanted to help people as a teacher." 
Rios valued Moir's mentorship in high school and stayed in touch over the years. At a critical point in Rios's life, Moir's influence would have a profound effect on Rios's career trajectory. 
After teaching bartending for about six months, Rios moved on to jobs at two country clubs, working as a prep cook and sous chef. He had a wife and child by then and had started to consider other job options. 
"When my wife was expecting our second child, I decided I wanted to spend more time with my family," he said. "I decided to find work that didn't require me to work every weekend." 
He contacted Moir, looking for advice, and learned that there was a teaching opening at the Piscataway campus of MCMS.   
"He told me they needed a culinary teacher for a special needs class," Rios explained. "I was thrilled, not just because I enjoyed teaching, but because I had experience working with members of my family who have special needs. I knew I could encourage them to believe they could succeed." 
Now in his second year teaching the Intro to Culinary class to both general education students and students with special needs, Rios looks back on his years at MCMS. 
"I consider my education at MCMS to be the biggest blessing of my life," he stated. "It is a privilege to attend a school like that and to learn a trade so young." 
He also found a mentor in Chef Moir and will likely follow in his footsteps to inspire another generation to not only do what they love, but teach what they love.