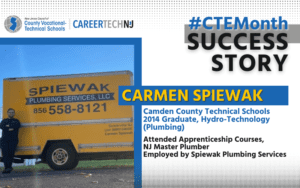 Carmen Spiewak, of Sicklerville, knew he wanted to be a plumber at an early age. Once enrolled at Camden County Technical Schools (CCTS), his interest grew.  
As a senior, Spiewak secured an internship. He also gained additional hands-on experiences by participating in SkillsUSA contests. He was state champion in plumbing events both his junior and senior years, and he went on to win the National Gold Medal his senior year. 
"Attending CCTS was the best decision I ever made, and the skills I learned opened many doors," he said. "When I graduated, I bought my instructor's plumbing business and have done well." 
In addition to running his own business – Spiewak Plumbing Services, LLC in Sicklerville – Spiewak is the master plumber for Jefferson Hospital in Washington Township. 
School officials add that Spiewak has not forgotten about CCTS. The 2014 alumnus recently spent an entire day at the school as a guest speaker, meeting the students, assisting in the plumbing class, and motivating this next generation through his story of success.