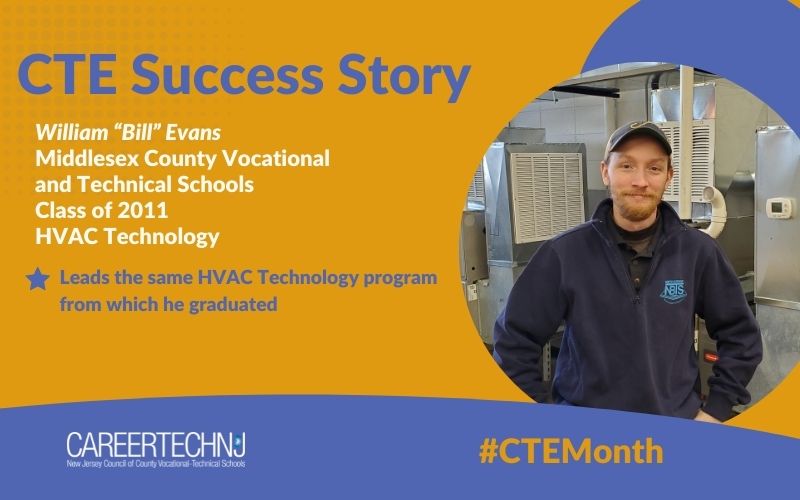 Bill Evans is grateful for all that he learned at Middlesex County Vocational Technical Schools (MCVTS), so much so that he now teaches there. He leads the same HVAC Technology (heating, ventilation, and air conditioning) program from which he graduated in 2011.
"MCVTS gave me the opportunity to learn a trade and a set of skills," said Evans. "As experts in their trades, the teachers share their knowledge and experience and build confidence in their students. They expect only the best quality of work and, in doing so, show their students that they can go on to do great things."
The HVAC Technology program at MCVTS prepares students to be employed as expert technicians and installers who can work for local contractors and commercial businesses or utilize their skills to pursue advanced training. Instruction includes installation, maintenance, repair, and knowledge of duct systems for various types of equipment in residential and commercial systems as well as solar heating technology.
Evans's path took him from the hands-on classroom to the professional field and back to the classroom as an instructor. MCVTS Career and Technical Education Director Sean McDonald proudly called it "technician to teacher."
Evans passionately credits his education at MCVTS for preparing him to not only have a successful career in the field, but as an HVAC educator now tasked with teaching new generations of technicians.
"It was the staff, the educators, and the shop teachers at MCVTS who inspired me to be the best that I can be," said Evans. "They prepared me for a career in HVAC, and I am now honored to be among them as a teacher of my own trade and in the very classroom where I was taught and inspired."
Throughout Career and Technical Education Month in February, the New Jersey Council of County Vocational-Technical Schools showcases how CTE works by sharing success stories from alumni of the 21 county vocational-technical schools.