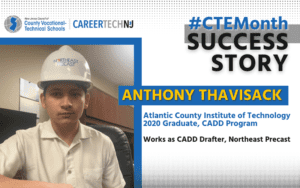 Anthony Thavisack, a 2020 graduate of the computer-aided drafting and design (CADD) program at Atlantic County Institute of Technology (ACIT), first became interested in building and design while playing Minecraft, a video game. 
"Playing Minecraft includes some creative building, and I thought that was such a cool part of the game," Thavisack said. "Then, ACIT made a presentation to my middle school and talked about the different programs leading to building trades. I was hooked." 
Thavisack noted that once he got to ACIT, his teachers were all exceptional. They helped maintain his interest and engage his mind. In addition to the CADD teachers, his music teacher had a lasting impact on his life.  
"I have always written my own indie-pop music," Thavisack explained, "but Donald Gallo solidified what I wanted to pursue. To this day, I write and produce music in my free time." 
Thavisack appreciated the opportunity to pursue both musical and building and design interests while in high school. He felt much of his day was intentionally structured to support his future goals. 
Another example is the work he secured with Northeast Precast in Vineland as a high school student. This work-based learning experience led to his full-time employment with the company immediately after graduation. Today, he works on products like superior walls, precast residential foundations, highway barriers, and more. 
Thavisack also spends the occasional weekend working as a kitchen and bath designer and builder. Even in that arena, ACIT has supported his work. 
"Most of the topics covered in my CADD class are immensely relevant today in construction and design," he explained. "For both of my jobs, I utilize the same building codes, drafting skills, and design principles I learned my freshman year at ACIT." 
Thavisack recognized that he also learned some interpersonal skills at ACIT. 
"The most important skill I received outside of CADD was the ability to maintain my composure as responsibility increased," he added.