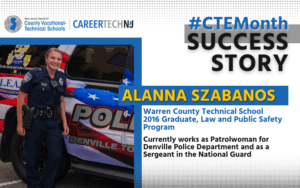 Alanna Szabanos, of Hackettstown, knew from an early age that she wanted to become someone who helped others. She explored paths to pursue this calling in the law and public safety program at Warren County Technical School (WCTS). That high school experience led to her decision to enter law enforcement. 
Szabanos considered WCTS "a small school, almost like a family," and credited many of her teachers with encouraging her to find a career that excited and fulfilled her. She said the law and public safety teacher, Mr. Wheatley, made sure the students had real-life, hands-on experiences to develop their skills. Furthermore, he helped Szabanos obtain an internship with a local police department to get real-world experience. 
Szabanos also appreciated WCTS' community service clubs like the Police Explorers and competitive SkillsUSA events, which provided her with even more insight into law and public safety careers. She gained confidence in her skills and knowledge by participating in these extracurricular activities.
Following WCTS, Szabanos earned an associate degree in criminal justice from Warren Community College and an associate degree in intelligence operations from Cochise College (Arizona). She worked as a 911 dispatcher while still in school and signed up for the U.S. Army National Guard in 2019, viewing military service as a stepping stone to a career in public safety. She was deployed to Kosovo where her passion for helping people grew. 
While deployed, Szabanos applied to Alternate Route Basic Course for Police Officer training and was accepted to a program in Camden County, N.J. She graduated, applied to different departments, and was hired as a patrol officer by the Denville Police department.
"The education I received at WCTS went far beyond the classroom and truly gave me a competitive edge when starting my career," she added. "The law and public safety program prepared me well for both the National Guard and police work." 
What's next for Szabanos? She hopes to advance in her field, possibly into the Detective Division, and continue to be someone her community trusts and looks to for help.