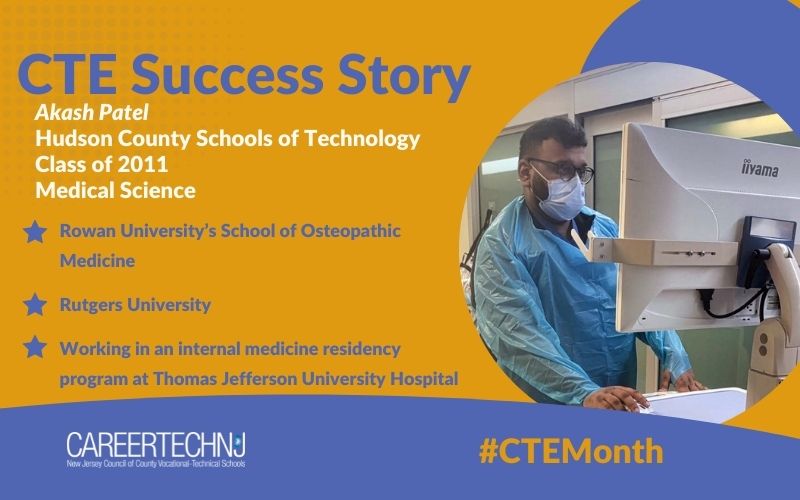 Akash Patel graduated from Hudson County Schools of Technology's County Prep High School in 2011. After four years of studying medical science, he has spent the past decade pursuing a career as a physician with plans to specialize in cardiology.
Patel used his high school-level medical science skills to study cell biology and neuroscience at Rutgers University. He went on to Rowan University's School of Osteopathic Medicine and is currently working in an internal medicine residency program at Thomas Jefferson University Hospital.
"I truly believe my education at County Prep laid the foundation for my success in the medical field," said Patel.
County Prep students must select a major of interest at the beginning of freshman year. As they progress through their academic careers, students will continue to enhance their knowledge and skills within their programs.
Patel credits much of County Prep's advanced curriculum for his success in college and now his medical residency. He remembers the tedious process of learning medical terminology. While that may seem trivial to some, it has made complex naming systems feel like second nature to him now.
"Classes like pharmacology, anatomy, and medical ethics also laid the foundation for me to learn medicine at such an early stage in my career," said Patel. "I am forever grateful for the medical science program at County Prep for igniting my passion for medicine and giving me the tools I needed to succeed."
Throughout Career and Technical Education Month in February, the New Jersey Council of County Vocational-Technical Schools showcases how CTE works by sharing success stories from alumni of the 21 county vocational-technical schools.