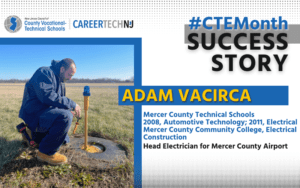 Early in high school, Adam Vacirca knew that he didn't want to "just sit behind a desk." He was a hands-on learner and realized he would have an advantage in a vocational-technical program. He began investigating options at Mercer County Technical Schools (MCTS). 
"I really liked the look of the automotive classroom at the Sypek Center, and I knew I wanted to learn a skill," Vacirca said. "I signed up for the automotive program and completed it in my final two years of high school." 
Although he enjoyed the automotive classes, Vacirca had a second interest. During the summers, he worked with a relative in an electrical business. He returned to MCTS and completed the two-year electrical program at the Assunpink campus. Vacirca then took advantage of a program sponsored by PSE&G held at Mercer County Community College (MCCC), where he earned his associate degree in energy utility technology in 2011.  
Although Vacirca did not make use of his electrical skills immediately, he went right to work. A job with the Department of Transportation (DOT) as a blacktop laborer put him "in the right place at the right time" to pursue an exciting career opportunity.
One of Vacirca's DOT supervisors had a friend in central maintenance who was looking for an electrician. Once word spread that Vacirca was a trained electrician, he was moved into a job where he could apprentice with a staff electrician. He took the civil service exam and was eventually promoted to head electrician at the Mercer County Airport. 
"I started at the airport in 2018," he explained. "I was the first full-time electrician to work there, addressing all different kinds of electrical problems. I am in charge of all lighting, signage, runway lighting, day-to-day circuitry, and more." 
Although his journey had twists and turns, Vacirca credits MCTS with helping him cross the finish line to find career fulfillment. 
"Both the auto program and the electrical program at MCTS provided me with the base knowledge that consistently resurfaced throughout my postsecondary schooling and throughout my career," he said. "What I learned there prepared me for my career and for life." 
When asked what advice he would give young people, he said, "I firmly believe that we need people with academic degrees and people who learn a trade. They are both required and both result in valuable, respectable lives. I am proud of my educational background, and I would share that point of view with younger students facing a choice."