New Jersey's county vocational-technical schools had another record-setting year for the number of graduates who earned an associate degree at the same time as their high school diploma: 250. That figure represents a sizable jump from last year's total of 216 and is nearly double the total from just four years ago.
"The idea of saving both time and money while moving toward college and career success is appealing for all high school students, as well as the parents and guardians who support them," said Jackie Burke, executive director for the New Jersey Council of County Vocational-Technical Schools. She added that as awareness grows of the opportunities provided by county vocational-technical schools for students to earn free or discounted college credits, so does the number of students who graduate with credits.
At just 16 years old, Maximous Masih earned 71 college credits and a high school diploma as a graduate of Sussex County Technical School's engineering program. He maximized his opportunity to get a head start by taking courses over the past two summers to graduate in two years.
"I'm now able to market myself as both a high school and college graduate at only 16, having a concrete level of education that few people my age have, especially in engineering science," Masih said. "It gets my foot in the door when talking to companies about possible employment opportunities, and it gives me a leg up on my peers."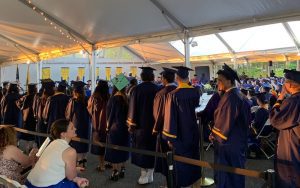 Masih will intern in a computer-aided design (CAD) role this summer before attending Purdue University's John Martinson Honors College in the fall.
To keep pace with demand, New Jersey's county vocational-technical schools continue to establish or expand partnerships with community colleges to offer dual-credit options, with college-level courses integrated with a high school CTE program.
All 21 county vocational-technical schools in New Jersey enable students to earn credit for college-level work while still in high school. Some programs build upon the credits offered with additional coursework completed on students' own time; others are specifically designed to support students in earning their associate degrees.
Cumberland County Technical Education Center (CCTEC) has consistently had the highest number of county vocational-technical school graduates who have earned an associate degree while in high school. The district developed the Early College High School (ECHS) program in partnership with RCSJ to provide a clear and accessible route for students to take to earn college credits during their four years at CCTEC. Students earn credits both through advanced high school courses and in college courses they take outside of the traditional school day. All tuition fees and course materials are paid for by CCTEC.
"We developed this program to assist students in Cumberland County, the poorest county in the state, by eliminating some of the financial burden that comes with postsecondary education," said CCTEC Superintendent Dina Rossi, Ed.D. "In doing so, we are closely adhering to our district's mission, which is to provide all students with a pathway into the global workforce and advanced educational options."
Of the 250 students graduating from a county vocational-technical high school this month with associate degrees, 66 students are from Cumberland County Technical Education Center. Bergen County Technical School District had the next highest number with 35 students, followed by Ocean County Vocational Technical School with 34 students, Essex County Schools of Technology with 24, Somerset County Vocational and Technical Schools with 22, Camden County Technical Schools with 21, Gloucester County Institute of Technology with 14, Salem County Vocational Technical School District with 12, Hudson County Schools of Technology with 11, Mercer County Technical Schools with four, Sussex County Technical School with three, and Middlesex County Magnet Schools and Morris County Vocational School District, both with two.
All these graduates now move on not only with portable college credits, but confidence to pursue their dreams. Amelia Rowniewski, a graduate from Bergen County Technical Schools' Applied Technology High School, said the 66 credits she earned while in high school gave her a "practice run" at attending college. She took courses at Bergen Community College, where she learned to read a syllabus, interact with professors and study for college-level exams.
"I now have an idea as to what I need to do well and how I can best manage my time," Rowniewski said, aiming to start strong on her academic journey to becoming a pediatric nephrologist. She will attend American University in the fall.