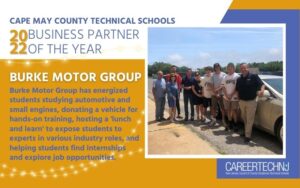 Cape May County Technical Schools (CCCTS) has named Burke Motor Group, headquartered in Cape May Courthouse, N.J., as its 2022 Business Partner of the Year. Doug Burke, the group's president, has been credited with breathing new life into the CCCTS Automotive Mechanics program.
"Doug Burke has gone above and beyond to support our automotive students and program," said John Longinetti, the district's work-based learning coordinator. "Last year he donated a vehicle for our students to work on in their shop. Additionally, he gave all 51 students in our Automotive and Small Engine programs a tour of the facility and hosted a 'lunch-and-learn' that featured an interactive panel discussion from various representatives of the automotive industry."
Burke and his team have also helped CCCTS students find internships in the industry and discussed job opportunities within their organization.
"We appreciate all of Doug's efforts, working with our students, helping them gain career awareness and experience in the automotive field and providing students with opportunities to continue with their education or career after graduation," said Longinetti.
In supporting CCCTS, Burke says he is supporting the entire community.
"Representing a family-owned and operated business in Cape May County for 110 years, we very much value providing career opportunities to our local community, especially Cape May Tech with whom we have a longstanding and productive partnership," he emphasized.