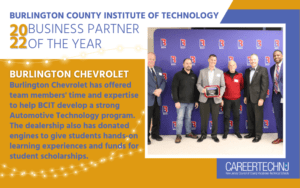 Burlington County Institute of Technology (BCIT) credits its partnership with Burlington Chevrolet for offering an Automotive Technology program that prepares students with industry valued knowledge and skills.
The many contributions Burlington Chevrolet has made to the Automotive Technology program, year after year and on both district campuses, are deserving of recognition. BCIT recently announced the dealership as its 2022 Business Partner of the Year.
The dealership has offered the time and expertise of its team members to help BCIT develop a strong curriculum that aligns with current and future industry needs. In addition, Burlington Chevrolet has donated engines to give students hands-on learning experiences that are important not only for building skills, but confidence.
Burlington Chevrolet has also helped reward standout students with scholarships, providing extra motivation for them to continue attaining credentials and move into a career in the automotive industry.
"It is our honor to nominate Burlington Chevrolet as the Burlington County Institute of Technology 2022 Business Partner of the Year," said Dr. Christopher Nagy, superintendent of schools, Burlington County Institute of Technology and Burlington County Special Services School District. He continued, "We are grateful for the outstanding support, expertise, encouragement, student scholarships, and in-kind donations from Burlington Chevrolet, which have enhanced our career and technical education programs."